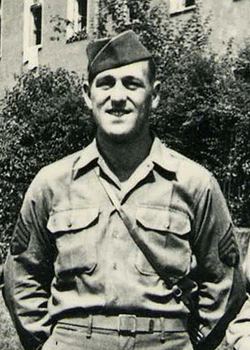 Felix E. Swehla
Biography: Felix Edward Swehla was born on September 18, 1915 in Petersburg, MI. He was the son of Joseph and Mary Straka Swehla and attended local schools in Petersburg. Prior to the war, he wroked as a carpenter.

Service Time: Felix entered the service on September 10, 1941 in Detroit and was assigned to Company B of the 803rd Tank Destroyer Battalion. The 803rd landed at Omaha Beach on June 13, 1944 and helped capture St. Lô before racing across France, Belgium and Holland to support operations in Aachen. They moved into the Ardennes just before the German offensive began in December.
In early 1945, Felix injured his shoulder and after spending some time in a field hospital, he was transferred into the 332nd Engineer Battalion where he would spend the rest of his time in the service. The photo link below is probably of Felix's unit but it doesn't look like like he made it into the image.

332nd Engineer Battalion – Squad Photo

One of the last military images we have of him is from 1945, and it shows him at the rank of Technician 4th Grade.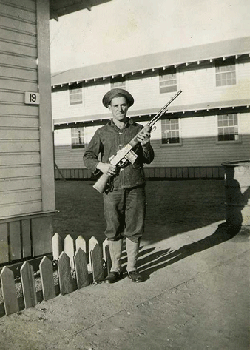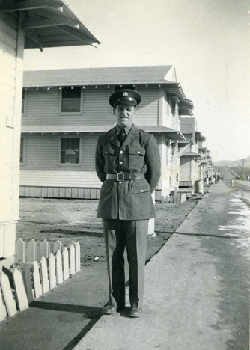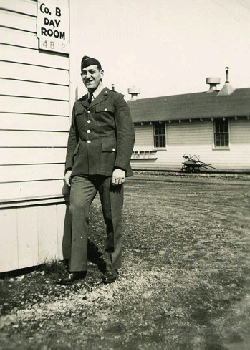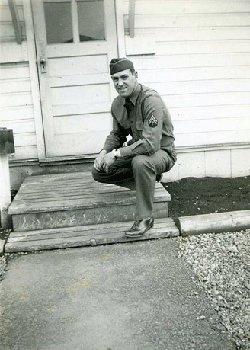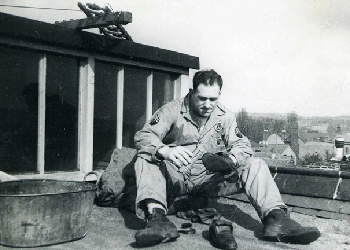 The pictures above show Felix at Camp Roberts, CA or Camp Lewis, WI during the unit's training. The photo to the left is probably from 1945, after the hostilities had ceased and the routine chores of war had begun.
After returning to the states, Felix also returned to his former occupation as a carpenter. On July 4, 1947, he married the former Erminia Marcos in Las Vegas, NV. She was the daughter of Philip and Delores Marcos of Fort Worth, TX. The couple took up residence in Dundee, Michigan and had two children, Ronald born in 1948 and later a daughter Brenda. Felix's marriage would end in 1968 but the two remained friends. On February 8, 1975, Felix married the former Vivian A. Dean of Britton, MI, in Naples Florida.
Felix was a 50-year member of the Carpenters Local 1301 in Monroe, MI. In his spare time, Felix enjoyed gardening, cheering on the Detroit Tigers and hunting. He was still out looking for that next big deer at age 75.
Article – Felix Shoots Buck in 1990.
He was also a member of both the VFW and American Legion. Felix passed away on March 1, 1998 and was buried in the Maple Grove Cemetery in Dundee, MI.
The remaining photos were also from after the war. Shown is the Brandenburg Gate (Berlin), a sign concerning the American Zone (Berlin), a quickly erected monument to Russian Armor and a few promoting the Pottsdam Conference, which was held from July 16 to August 2, 1945 in Pottsdam, Germany. Additional photos of Felix and members of his tank destroyer unit can be found in the Photo Gallery for the 803rd.
I want to thank Felix's son Ron for providing the information for this write-up and photos of his father and other men of the unit. Felix's Great-Niece, Caitlin has started a website which showcases some of the letters Felix wrote while serving. She has transcribed them to make them easier to read. You can see her site by clicking on the following link: www.caitlinpine.com