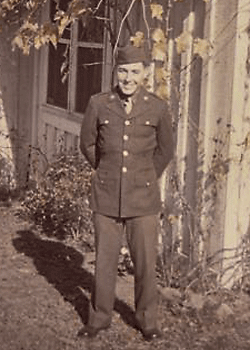 Sheldon M. Shaubach
Biography: Sheldon Martin Shaubach was born on July 13th, 1923, in Piru, California. He was the son of Enos Milton and Dorothy Horton Shaubach and had a twin sister Shirley, who is still living at the time this was written. The family had another son, Enos Milton Jr., born three years later. All of the children were born at home. Their father, Enos, worked for E.L. Doheny, managing his cattle, and also on the oil well rigs.
In the late 20s or early 30s, the family moved to a property in O'Neals, California, which Enos had purchased after he came home from WWI. They moved their few belongings and literally pitched camp and began building a home and a life on a cattle ranch. The children attended Spring Valley School in O'Neals, which is about 5 miles away. When Sheldon was old enough, he rode his horse cross-country daily through the San Joaquin Experimental Range to get to school. The range was located right next to the Shaubach ranch. Since the high school was in Madera, and transportation to and from school was difficult, Sheldon dropped out at 8th grade and eventually went to work for the Experimental Range, riding his horse back and forth to work.
Life on the ranch was not all work and no play. Neighbors helped neighbors with branding and such, and there were local events as well. Dances at the O'Neals' Community Hall were regular social events. There was music played by local musicians and refreshments at mid-night. The Shaubachs, along with other ranchers, took their cattle to the high mountains during the summer. There were big cattle drives, which took two or three days, and camping with the herd throughout the summer. There was also the Annual Hildreth Rodeo at Easter time, where young and old entered the various events. It was a really big picnic, attended not only by local ranchers and their families but outsiders as well.
Service Time: Sheldon was drafted into the Army and entered service on January 7, 1943, at Fresno, CA. At the time he was only 18 years old and his life would be greatly changed. The large brimmed cowboy hat was exchanged for the small army cap that didn't come close to shielding the eyes. Basic training was far different from chasing cattle and being away from home was not easy. Sheldon was good about writing, but his letters consisted mostly of asking how everybody was, about his horse and other ranch happenings. He told little of what his life was like, about his buddies, or where he was. He was stationed in both Texas and Louisiana, and didn't seem to care for either place. It was the same when he was finally shipped overseas. He related very little to his family about how he felt about the war or what he was doing within his unit.
Sheldon was assigned to the 823rd Tank Destroyer Battalion and trained with the unit while in the U.S. The 823rd arrived in England on April 17, 1944, and then landed on Omaha Beach, France, on June 24th. It was one day later, on the 25th, that Sheldon was wounded and transported to the 41st Evacuation Hospital. It was there, on June 27th (some documents list the 26th), at 1545 hrs, that he succumbed to his wounds and died. The circumstances of his death are not clearly identified in the available records but his loss was greatly felt by his loving family. Among the personal effects, sent home to his family, were a pocket watch, a wallet, some pictures and a few letters.
Sheldon is listed in the Memorial Service Program and Unit History as the first soldier to be killed in action. At the time of his death, he had reached the rank of Corporal. The main photo of Sheldon, shown above, was taken while he was on leave, just before he shipped overseas.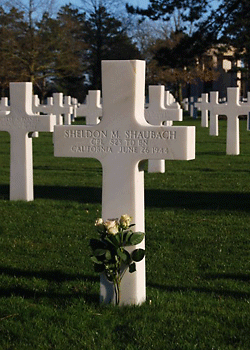 Sheldon was originally buried at the U.S. Military Cemetery La Cambe, located 17 miles north of St. Lo, France. In April of 1949, his family was notified that his remains had been moved to their permanent place of rest, in the Normandy American Cemetery, in Colleville-sur-Mer, France. His grave is located at Plot I, Row 17, Grave 17. He received the Purple Heart for his ultimate sacrifice. His family was very proud of him.
I want to thank his sister-in-law, Sheila, for providing the majority of this information and the photo of Sheldon. I also want to thank Hervé Danten for the image of his grave marker and for making me aware of Sheldon's service in the tank destroyers. Hervé is a member of an association dedicated to decorating the graves of the American soldiers killed in Normandy. He has adopted Sheldon's grave and regularly places flowers there in his memory.