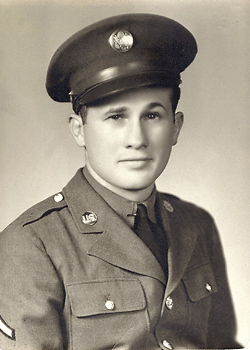 Raymond G. Safreno
Biography: Raymond Gilbert Safreno was born in the hills near Danville, California. He was the son of Manuel and Mary Regelho Safreno and attended Pleasanton Elementary school and later graduated from Amador High School. He then spent two years studying at Oakland City College and worked as both a pipe-fitter and caddie to pay for his education.
Service Time: Raymond joined the Army on March 24, 1941, at San Francisco, CA. He was assigned to the 826th Tank Destroyer Battalion, which was later re-designated as an Amphibious Tractor Battalion. In 1944, Raymond married the former Blanche Marie Cabral who was the daughter of Joseph William Cabral and Lillian Marie Frager. Blanche was born in Pleasanton, CA. Later that year, in August of 1944, the 826th shipped out from the San Francisco port to the Pacific Theater. The unit received credit for the campaigns of Bismarck Archipelago, Leyte, Luzon and the Southern Philippines. Raymond left the service at the rank of Corporal.
When he returned to the U.S., he set his sights on continuing his education with time at both the California College of Arts and Crafts and the College of the Pacific. Raymond landed a job as a Elementary School Teacher in the Riverbank School District in 1950 and he went on to positions as Vice-Principal, Principal, Assistant Superintendent and finally retired as Superintendent in 1980.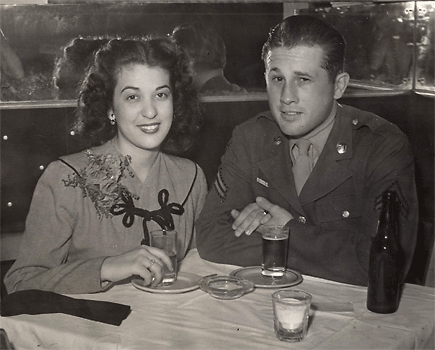 The photo is of Raymond and Blanche at Slappy Maxie's in San Francisco.
Through those years, Raymond and Blanche also started a family, having three children, Daniel, born in 1948, Richard in 1952 and Melody in 1956. In his spare time, he enjoyed fishing, camping, reading and also found time for activities with the Riverbank Lions Club, Disabled American Veterans and Elks Lodge.
Raymond passed away on November 22, 1991, and was buried in Hughson, California. At the time of his death, he was living in the Riverbank Community. I want to thank Raymond's son, Daniel, for supplying the information and photos for this tribute.