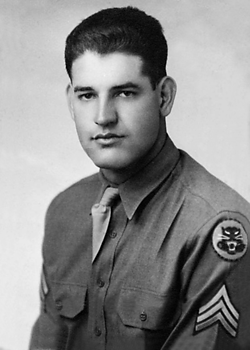 John H. Strickland, Jr.
Biography: John Henry Strickland, Jr. was born on August 19, 1919 in Adele, Kentucky. He was the son of John Henry Strickland and Mary Belle Sizemore and attended Adele Grade School. He later worked as a truck driver for Inland Manufacturing located in Dayton, Ohio. In October of 1936, John married Mary Marie Magoch in Richmond, Indiana. Mary was the daughter of Joseph Magoch and Mary Marie Ripasi. Mary had been born in Ellis County Texas but the new couple made their home in Trotwood, Ohio. John and Mary would have two children, James and Beverly. John and Mary divorced in 1946. John would later marry Christine Chadwell and have four sons, John, David, Don and Phil.
Service Time: John entered the service on May, 13, 1942, at Cincinnati, OH. He was assigned to C Company, of the 705th Tank Destroyer Battalion and rose to the position of 2nd Platoon, TD Commander. They landed at Utah Beach with M18 Tank Destroyers and turned west toward Brittany as part of Task Force A, in the Battle for Brest. They assisted in operations on the Crozon Peninsula before turning east and moving across France. By November of 1944, They had reached the border of Germany and shifted North to Aachen and then to Bastogne, where they played a major role in its defense. The 705th continued their successes in the drive to the Rhine River in March of 1945 and on to Oppenhein to Bayreuth and then into Austria by May.
The unit and John participated in five campaigns, including Normandy, Northern France, Rhineland, the Ardennes and Central Europe. John received the EAME Medal, the Good Conduct medal and the Distinguished Unit Badge for the 705th's participation in the defense of Bastogne. John left the service at the rank of Staff Sergeant.

John returned to Ohio to work as a farmer and as plant security for Inland Manufacturing in Dayton, OH. In his spare time, he enjoyed hunting and fishing. He was also a member of the Masonic Lodge and the Order of the Eastern Star. John passed away in December of 1986. He was buried in Corbin, Kentucky.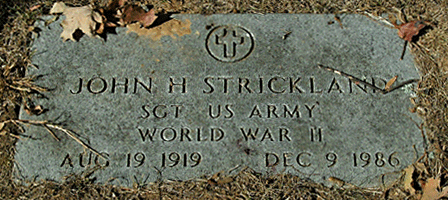 I want to thank John's son Jim for providing the main photo and information about his dad. Thank you also to Find A Grave contributor, Melissa Martin for the use of the grave marker photo.