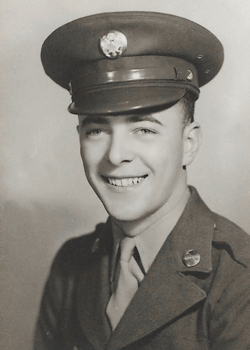 Louis A. St. Germain
Biography: Louis A. St. Germain was born on September 2, 1924, in Willimansett, MA to Louis S. and Minnie (Bunyan) St. Germain. He graduated in 1943 from Lyndhurst High School in Lyndhurst, NJ.
Service Time: Louis was stationed at Ft. Bragg, Ft. Dix and would see 11 countries during his service time. He was assigned to the Second Platoon, A Company of the 802nd Tank Destroyer Batallion. He served in 5 campaigns including Normandy, Northern France, Rhineland, the Ardennes and Central Europe. He participated in the Battle of the Bulge and upon his discharge on December 12, 1945, left the service as a Corporal.
Louis married Dorothy Bolger in September, 1953. They were married for 40 years and had three children, Mark, Paul, and Lynn, and seven grandchildren. Upon the passing of Dorothy, Louis married Barbara Bachmann and was happily married for 13 years before her passing.
Louis went to school for photography and worked photographing football for a newspaper in New Jersey. He later worked as a Mechanical Designer, designing for nuclear power plants and for the Navy. His last employment was working as a Computer Aided Design engineer with Nabisco Brands, where he retired in 1992.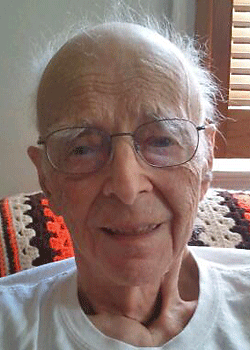 Louis is an excellent woodworking craftsman, creating gifts for family and friends, and has replicated tank destroyers which were exhibited at one of the 802nd Tank Destroyer reunions (which he thoroughly enjoyed). Louis has lived in the same home in Lyndhurst, NJ, for over 55 years. He believes he may be the oldest surviving member of A Company, Second Platoon. Louis has written his own personal World War II memoirs so that future generations will have an accurate account of his experiences. The photo to the left is Louis at the age of 88.



I want to thank Louis for his service to this country and wish him long life and good health. Thank you also to Louis' son Lynn for the information and photos of his father.

The photo below is of the Tank Destroyers Louis hand-crafted out of wood.