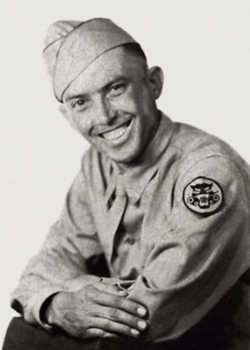 Smith, George E.
Biography: George Erskin Smith was born on June 14, 1912, in Morris (Jefferson County), Alabama. He was the son of John Birch Smith and Nancy Ozella Stewart and attended the local Morris school. On May 19, 1933, he married Grace Seville Sullivan, from Morris, who was the daughter of James Rufus Sullivan and Mary Jane Watson. The couple made their home in Morris and had one son and two daughters; Earl Erskin born in 1934, Jerry L. (Heany) in 1936 and Edith J. (Sacks) in 1938. Prior to WWII, George worked as a spray painter and farmer.
Service Time: George entered the service on April 6, 1944, at Fort McPherson, Georgia. He was assigned to the tank destroyer forces and trained at Camp Hood in Texas. At this time, it is unknown which TD unit he was in. At some point he was transferred out of the TD forces and sent to an infantry training center. His military occupation specialty (MOS) is listed as Rifleman. Eventually, he was assigned to Company C, 301st Infantry Regiment, 94th Infantry Division.
On February 19, 1945, George was wounded during heavy fighting near the German village of Sinz in an area known as the Saar-Moselle Triangle. He was evacuated, spending time in the 100th General Hospital at Bar-le-Duc, France, and the 98th General Hospital in England. He was later shipped to Welch Convalescent Hospital in Daytona Beach, Florida, before finally being discharged at Battey General Hospital in Rome, GA. George earned the following medals and awards: Bronze Star, Purple Heart, Good Conduct, American Campaign, EAME Ribbon w/2 Bronze Stars (Rhineland and Central Germany Campaigns), WWII Victory, Combat Infantry Badge, Honorable Service Lapel Button WWII and a Marksman Badge w/Carbine and Rifle bars. He left the service on Nov. 6, 1945, at the rank of Private.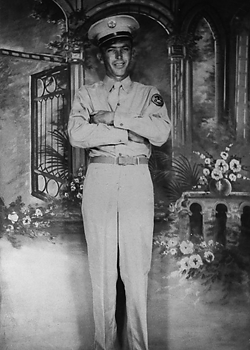 George returned to Morris and resumed his painting and farming work. He and Grace divorced and on March 2, 1946, he married Billie Sue Freeman from Parrish, Alabama. She was the daughter of William Hamilton Freeman and Alma Bradley. They made their home in Jefferson County, AL, and had six children; Sandra J. born in 1947, Georgia J. (Slade) in 1949, David George in 1951, Judy A. in 1953, John D. in 1956 and Timothy J. in 1957. George enjoyed hunting and fishing in his free time. He passed away on July 13, 1973, and was buried in Morris, Alabama.
We would like to thank George's daughter, Georgia, for providing the information and photos used in this tribute.