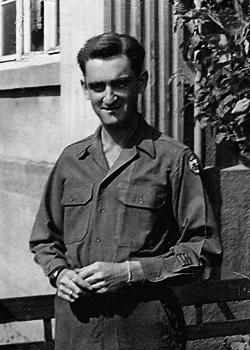 Joseph F. Stranix (644th)

Biography: Joseph F. Stranix was born on March 1, 1921, in Philadelphia, PA. He was the son of John Stranix and Frances McMenamen and graduated from West Catholic High School. He then worked in a terminal warehouse.
Service Time: Joseph entered the service on December 21, 1942, at Philadelphia. He was assigned to Headquarters Company, of the 644th Tank Destroyer Battalion. They received credit for five campaigns including Normandy, Northern France, Rhineland, the Ardennes and Central Europe.
Equipped with M10's, they participated in the Cobra Breakout before advancing into Brittany and helping to capture Brest, France, in September of 1944. Moving into the Ardennes, they joined in the elimination of the Bulge before proceeding to the Roer River. They then moved to the Rhine, crossing at Remagen, before supporting the reduction of the Ruhr and then moving east to the Elbe. Joseph was wounded a total of three times, two of the injuries, his hand and side, occurred during the Battle of the Bulge. Joseph left the service at the rank of Technician 5th Grade.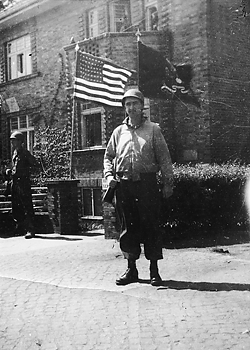 Joseph returned the states and found work as a warehouseman and later a salesman. He also became part owner of a janitorial supply company. Joseph married the former Sarah Marie Walsh, who was the daughter of Fenton Walsh and Helena Devlin. She was also born in Philadelphia. The new couple made their residence in Upper Darby, PA, and later, Barrington, NJ. They had three children, Joe born in 1949, Sheila in 1950, and John in 1955.
In his spare time, Joseph enjoyed carpentry, reading, crossword puzzles, model trains and gardening. He was a member of the VFW, Barrington Babe Ruth Association, Barrington Youth Center and the St. Francis de Sales Catholic Church.
Joseph passed away on October 14, 1979, and was buried in the Saint Mary's Cemetery in Cherry Hill, NJ. I want to thank Joseph's son, John, for the photos and information for this tribute. Both of the photos are thought to have been taken in Schwerin, Germany, in April or May of 1945.