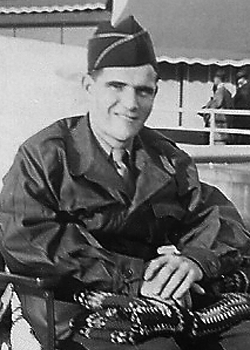 John H. Springer
Biography: John Henry Springer, "Jack", as he was known, was born on June 23, 1923, in New York City. He was the son of Semon H. and Emma Springer and attended Shimer Junior High in South Jamaica and then Jamaica High School. After leaving school, he worked as a diamond cutter, for Fine Brothers, in Manhattan.
Service Time: John enlisted on John 23, 1942, in New York and was assigned to Company C, of the 601st Tank Destroyer Battalion, serving as a radio operator. He shipped out with them, landing in Scotland on August 9, 1942. They would arrive in North Africa in December, taking part in the Battle of Kasserine Pass, in February. Jack saw action with the landings at Salerno and assault on Anzio before rolling through Rome, in their tank destroyers. It was while he was stationed in Italy that Jack's mother passed away.
The 601st made their next landing in Southern France, moving toward the Colmar Pocket. Company C was ordered to support the 254th Infantry and their attack on Bois Boulay. It was on February 4, 1945, that Jack was wounded, when a rocket landed in his vicinity and he was hit in the back by shrapnel.
V-Mail from Jack about injuries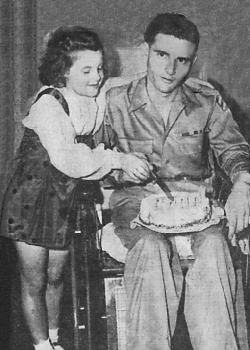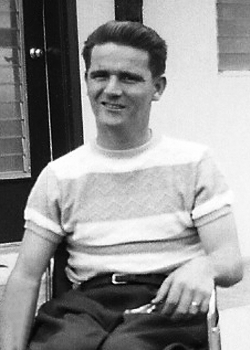 Jack was evacuated for medical treatment and was later shipped back to the U.S. He spent some recovery time, at England General Hospital, in Atlantic City, NJ. It was during his time at the hospital that his C Company buddy, Calvin Miller, met Jack's sister Jeanette. Calvin and Jeanette would eventually marry. Jack's sister Elaine is shown in the photo above, helping him cut his welcome home cake.

Jack's injuries had paralyzed him but it didn't stop him from living a full and active life. He was the first to take his drivers test at the Jamaica Motor Vehicle Bureau, with a specially equipped car. He married his long-time sweetheart, Marian, and with the help of the Veterans Administration and the Federal Government, they built a home in Fort Lauderdale, Florida.
The couple adopted a son John, and in Jack's spare time, he played wheelchair basketball with other veterans. They even played the Harlem Globetrotters once and were able to beat them. Jack passed away on March 20, 1988 in Coral Springs, Broward County, Florida. He was buried in the Calverton National Cemetery in Calverton, NY. Jack was loved by all who knew him.