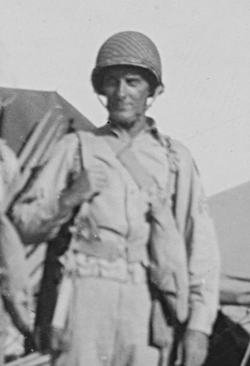 Robert L. Sullivan
Biography: Robert "Bob" Leon Sullivan was born on May 21, 1912, in Guilford, Nodaway County, Missouri. He was the son of Albert Earl Sullivan and Clara Bell Light and attended Warsaw High School in Warsaw, MO, completing the 10th grade. Prior to entering the service, Bob moved to Portland, Oregon, and was employed by contractor William Quizley, working heavy construction and finish work; building houses, large buildings and ship quays for 6 years.
Service Time: Bob entered the Army on March 15, 1942, at the Presidio of Monterey, California, and was eventually assigned to the Reconnaissance Company, of the 607th Tank Destroyer Battalion. They trained at several locations in California, as well as Camp Hood, in Texas, prior to shipping to England, in April of 1944. The unit landed at Utah Beach, in June, and was soon attached to the 90th Infantry Division. They operated as a towed gun battalion until mid-November, at which time they converted to the M-36 tank destroyer. They were attached to the 95th Infantry Division in early November and participated in the battle of Metz, France, followed by advancing toward the Siegfried Line at Saarlautern, Germany.
In late January, the 607th was sent to the Houffalize, Belgium, area and attached to the 87th Infantry Division, for the remainder of the war. Bob was originally a section leader but was promoted to a platoon sergeant supervising 20 enlisted men. He earned the following medals; Good Conduct, EAME with 1 Silver Battle Star, American Defense and WWII Victory. Bob was sent to the hospital for a non-combat medical condition in his right knee, on May 5, 1945, and dropped from assignment to the 607th. He returned to the U.S. on July 5th and was finally discharged from Birmingham General Hospital, Van Nuys, CA, on September 20, 1945. He left the service at the rank of Staff Sergeant.
Post-Service: Bob returned to the U.S. and worked as a carpenter and cabinet maker. On June 27, 1947, he married Shirley Maxine Love. She was the daughter of Otis Earl Love and Ethel Grainger and was born in Portland, Oregon. The couple made their home in Portland and had two children, Patrick Jay, born in 1948, and a daughter, Kelly Jo, in 1952. In 1965, Bob earned a certificate of High School Equivalency which he was justifiably proud of. He was an avid reader and baseball fan in his spare time.
Bob passed away on July 7, 1994, and was buried in Portland, OR. We would like to thank his daughter, Kelly, for providing the information and photo used in this tribute.