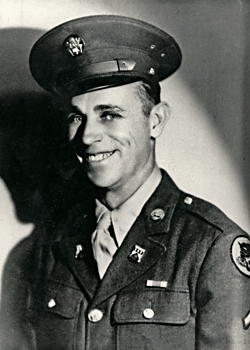 Louis C. Schwender
Biography: Louis Christian Schwender, or "Smoky" as he was known to friends and family, was born on December 22, 1906, in Cincinnati, Ohio. He was the 4th of 5 children, born to George Schwender and Clara Radloft. George was a machinist and Clara stayed home with the children, George Jr., Elizabeth, Luella, Louis and Carl. Smoky attended local schools, receiving a grammar school education before going to work. He married a woman named Nancy but their marriage ended in divorce.
Around 1937, while he was working as supervisor for the Cincinnati Dump, Smoky met Loretta Wilp through her oldest daughter Marie, who was working as a waitress in a local restaurant. Loretta was the daughter of George August Bronner and Margaret Minten. She was also the mother of seven children from her marriage to John Wilp, which ended when John passed away in 1933. Loretta's strict Catholic faith would not allow her to marry a divorced man but she and Smoky continued to see each other.
Service Time: Smoky was drafted in 1942, and entered the service at Fort Thomas, Kentucky, on March 12, 1942. He took his basic training, at Camp Atterbury, Indiana, and was assigned to Company A of the 773rd Tank Destroyer Battalion. Smokey and the unit were transferred into the California desert and Patton's Desert Training Center. Loretta came to visit him in Indio, CA, and during her visit, the couple decided to get married. Their love for each other, and the knowledge that they may never see each other again, helped them make the decision.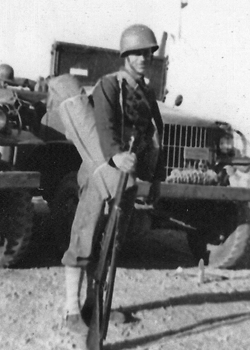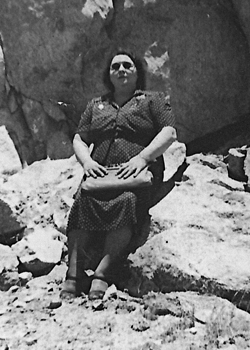 Smoky did see the family again, in April 1943, just two weeks before he was set to ship overseas. Marie, his now step-daughter, was nine months pregnant, and went into labor while Smoky was there on leave. He and Loretta went with her to the hospital and stayed until her daughter Cindy was born. The family knew Smoky as a humble and caring man.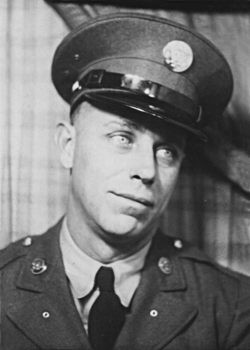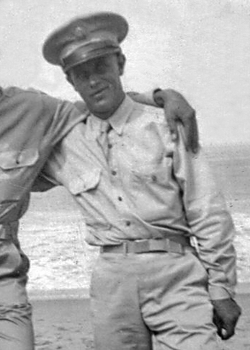 Smoky and the 773rd arrived in Scotland on February 7, 1944, equipped with M10 tank destroyers. They joined the leading elements of drives into France, already in progress, and saw action at Le Bourg St. Leonard. Throughout their assault on Le Bourg there was intermittent artillery fire. On August 17, 1944, Pfc. Louis C. Schwender was wounded and he received a Purple Heart.
Smoky returned to duty and on November 29, his 3rd platoon, of A Company, was moving into Furweiler, Germany, when enemy artillery forced them to seek cover. Smoky's third TD was maneuvering near a building when they ran over enemy mines. The explosions destroyed their TD, killing him and the rest of the crew. Additionally, 8 other men were injured. Smoky's wife Loretta was told of his death by her two oldest daughters, Marie and Phyllis. At the time, she was in the hospital, recovering from an operation. Sometime later, Loretta received a letter of condolence from a 773rd soldier named Ken. In the letter, he identifies himself as Lou's best friend. Smoky was awarded a second Purple Heart, which was presented to the family after his death.

Condolence Letter – Written on Feb. 12, 1945
Smoky had taken out as much life insurance as he could just in case he did not make it back. It left Loretta in a reasonably good position financially, but she continued to work until additional medical issues forced her to stop. Smoky was eventually brought home and buried in the Saints Peter and Paul Cemetery, in Reading, Ohio. Loretta was buried there also, next to Smoky.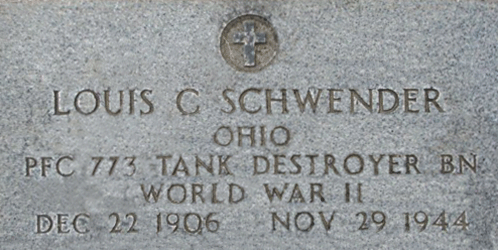 I want to thank Cliff Wolf for providing the materials for this tribute to his great-grandfather, Smoky. Some of that information came from a book about Loretta, written by her son, John Edward Wilp. I have included Cliff's collected information, in the document listed below. It includes additional information on the Wilp family, as well as material on Smoky.
Biography of Pfc. Louis Christian Schwender – by Clifford L. Wolf.