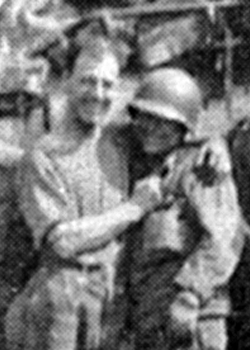 Robert G. Sadlo
Biography: Robert Godfrey Sadlo was born on June 1, 1914, in Manhattan, New York. He was the son of William J. Sadlo and Bertha B. Kubista. Robert married the former Viola M. Sieber, also from Manhattan, on April 20, 1934. The couple had one daughter but the marriage ended in 1936. His enlistment record indicated gardeners and/or grounds keeper was the type of work he was performing prior to entering the military.
Service Time: Robert entered the Army on November 19, 1942, in New York City, NY. He was eventually assigned to the 602nd Tank Destroyer Battalion. The unit landed in Scotland late July, 1944 and moved to Omaha Beach on August 26th. They began combat along the Moselle River in early September, supported operations against Metz, France in November and moved to Belgium during the Ardennes (Battle of the Bulge) Offensive in December, 1944, and January, 1945. Next, they pushed through the Siegfried Line, eventually crossing the Rhine River in late March. Their advance continued through Gotha, Eisenach and Zwickau in April. The 602nd received credit for four campaigns: Northern France, Rhineland, Ardennes-Alsace and Central Europe. Robert returned to the U.S. aboard the troopship, SS George Washington, on October 26, 1946. He left the service at the rank of Pfc.
Robert lived in Astoria, NY, for many years. At some point, he married the former Francis Mabel Miller and they had five children, Mary Jane, Mabel, Bobette, William and Thomas. Later, they lived in Elmhurst and eventually moved to East Elmhurst. Robert worked as a gardener for the Parks Department.
Sadly, Robert passed away, shortly before his 52nd birthday, while at work on May 23, 1966. He was buried at the Long Island National Cemetery, East Farmingdale, NY.
Robert is shown on the left in the photo above. He has his arms around one of the other crew members of his TD, Haskell Bishop. Other members were Harold V. Bowerly, John A. Mureen, Cruze Camarillo, Donald J. Mitchell and Marcel S. Kupa.