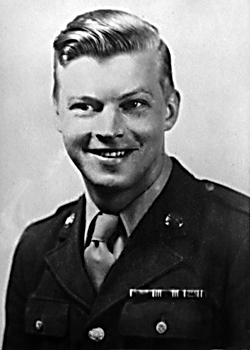 Conrad M. Sigfred
Biography: Conrad Martin Sigfred was born on June 23, 1922, in Gladstone, Michigan. He was the son of Martin Sigfrids and Mary Elizabeth Berg and attended the Bay de Noc School, in Delta County Michigan, through the 8th grade.
Service Time: Conrad entered the service on March 8, 1943. After basic training, he was assigned to the 653rd Tank Destroyer Battalion, which had been formed on March 20, 1943, at Camp Bowie, Texas. They received training at various military installations including Fort Hood, Texas, Camp McCoy, Wisconsin and Camp Forest, Tennessee.
While on leave on October 20, 1943, Conrad married the former Helen Pederson. The couple would have one child, Gerald.
Conrad returned to his unit, which moved to Camp Van Dorn, Mississippi, where they were deactivated on May 10, 1944. The men were then transferred to the 144th Infantry Regiment which acted as a special training unit to provide infantry training to the TD men as well as antiaircraft battalions. Many of the men were then shipped overseas as replacements.
Conrad was assigned to Company E, and along with approximately 100 other men, they moved to Fort Meade, Maryland, arriving on August 10th. He would then go to Camp Shanks, New York and ship overseas, on the RMS Mauretania, on the 24th. They arrived in Liverpool, England, on September 1st. After disembarking early on the 2nd, they arrived in South Hampton later that afternoon and then boarded the City of Canterbury passenger ship by 8:00 pm that same evening. They arrived in Normandy, France, and Conrad was assigned to Company B of the 26th Infantry Regiment, 1st Infantry Division of the First Army.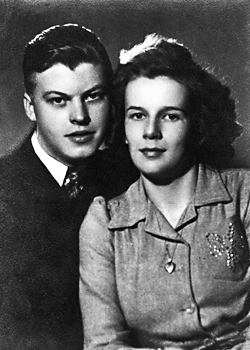 On October 23, 1944, at 3:00pm, Conrad was wounded during actions in the Hurtgen Forest. He was evacuated to a holding hospital in Belgium and then to a General Hospital in Paris, France, where he stayed on October 28th and 29th. He was then moved to Cherbourg, France, and loaded on a hospital ship and taken back to South Hampton, England and another temporary hospital. He then went to a General Hospital in Oxford, England before being moved to Scotland and boarding the Queen Mary on January 11, 1945. They sailed for the U.S. and arrived in New York on the 19th. He was transferred to Baxter General Hospital in Spokane, Washington, where he was until March 18th.
Conrad received the Purple Heart and was awarded the EAME Medal and the Good Conduct Medal. He received credit for two of the unit's eight campaigns. He left the service at the rank of Private First Class.
Two of Conrad's brothers, Bert and Ragnor also served in WWII. Their younger brother, Marvin would serve in Korea.
Conrad returned to his family in Michigan and passed away on March 3, 1972. He was buried in the Fernwood Cemetery in Gladstone, Michigan. Conrad's son Gerald would serve as a Navy pilot in the Vietnam war.
I want to thank Conrad's niece Christine for providing photos and information for this tribute. I want to thank Elaine A and Find A Grave for the use of the grave marker image.