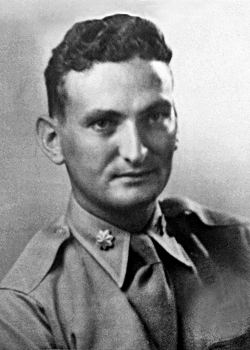 John M. Suardi
Biography: John Marcello Suardi was born on March 26, 1917, in Clinton, Indiana. He was the son of Luigi Suardi and Maria Roscio and graduated from Clinton High School. He continued his education at Purdue University, where he also took part in their ROTC program. He graduated in 1938, with a degree in engineering. When he wasn't in school, John worked as a helper to his step-father, who was a mason and artist of terrazzo flooring.
Service Time: John entered the service and was initially assigned to the 19th Field Artillery Battalion on March 9, 1940. He served as a Battery Officer. He was given a certificate of participation in the field training and both Corps and Army maneuvers with the 19th Field Artillery.
He was with them for six months before moving to the 21st Field Artillery Bn and then onto the 5th Anti-Tank Battalion in September of 1941. The 5th was re-designated as the 605th Tank Destroyer battalion on January 1, 1942, with now 1st Lt. John Suardi, serving in HQ Company and then Company A.
On July 24, 1942, John married the former Ruth Eileen Ball who had been born in Springfield, Illinois and was the daughter of Frank Ball and Elizabeth Manning. The couple had met at Fort Custer, Michigan where Ruth was an Army Nurse. They were married after only a three week courtship.
From November 16, 1942, to February 15, 1943, John went back to school at Camp Hood, Texas, in their Advanced Officer Class. He was then promoted to Captain and held positions of Adjutant, S-2 and S-3 for the 605th, until July 18, 1943, when he was transferred to the 13th Tank Destroyer Group, serving as their Assistant S-2.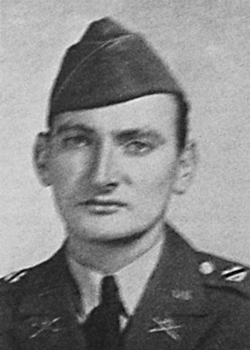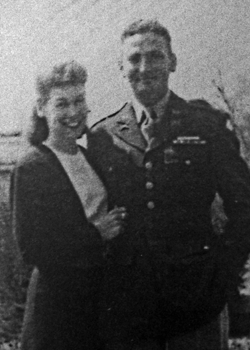 The unit moved to the Tennessee Maneuver Area on Aug. 25, 1943, as part of XII Corps. and was the transferred to Camp Gordon, GA on Nov. 9, 1943, and attached to IX Corps on Jan. 20, 1944. From there, they moved to Fort Jackson, SC, on Mar. 27, 1944, and were attached to XXIII Corps on Sep. 25, 1944. They received their overseas orders and moved to Fort Lawton, WA, on Dec. 19, 1944, to prepare for shipment.
They departed from the Seattle, WA, port on December 28, 1944, and arrived in Hawaii on January 5, 1945. Now at the rank of Major, John served as the unit's S-2, when they shipped out in July of 1945, landing at Leyte, Philippine Islands on Jul. 9th. Less then a month later, they moved to Mindoro on Aug. 5th. He became the Adjutant and then S-1, and when the unit was deactivated on November 12, 1945, he was serving as the Executive Officer. In addition to the standard WWII ribbons, John was recommended for a Bronze Star and did receive a Commendation for his sevice.
Bronze Star Recommendation/Commendation
Now that the war was over, John held a number of positions with the 96th Division and 4th Regiment before being stationed at Fort Wright and Governor's Island, New York. While there he served as Post Adjutant and Post Executive Officer. In May of 1947, he was promoted to Lt. Colonel.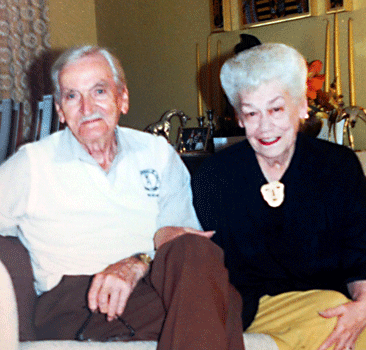 John left active service to work as a Civil Engineer for the Graver Tank Company in East Chicago, Indiana. He did remain in the active Reserves and became the Commanding Officer of the 444th Field Artillery Battalion in June of 1949. Later that year, he applied for the admission into the Command and General Staff College to pursue the Special Associate Course. The application shown below includes a list of his duty stations.
John and Ruth had a daughter, Mary Jo, born in 1943, and then a son, Mark, born in 1951. The family made their residence in Orinda, California and later moved to Matteson, Illinois. In his spare time, John enjoyed golf, gardening and playing bridge. He was also a member of the Purdue Alumni Association and the Reserve Officers Association.
John passed away on June 29, 2005 and was buried in the Oak Ridge Cemetery in Springfield, Illinois. I want to thank John's son Mark for providing the photos and information for this tribute.