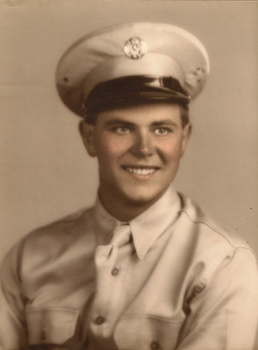 Thurman A. Smith
Biography: Thurman Allen Smith, was born on December 27th, 1919, the son of Mr. and Mrs. Charles Smith of Cincinnati, Ohio, and lived in that area his entire life. He attended Delhi Grade school until the 8th grade when he went to work to support his family. Known as "Smitty" to his friends and family, he married Lucille Jane Wayman of Independence, Kentucky,, on March 15th, 1945, in Covington, KY. She was the daughter of Stanton Wayman and Lloud Dickson. The Smiths had two children, Gary, in 1948 and Randy in 1951. Thurman worked as a florist before entering the service.
Thurman entered the service on March 19, 1942, at Fort Thomas, KY. He was trained as a Anti-Tank Gun Crewman and is identified, on his letter of separation, as "driving a full track vehicle used in the destruction of enemy tanks and armored cars". He is listed on the 6th TD Group payroll roster of 7-28-43, and trained at Camp Young, California, which is part of the Desert Training Center. The photo shown was taken at Camp Young on September 30, 1942.
At some point, Thurman ended up transferring out of the 6th TD Group and into the 243rd Quartermaster Depot Company who were on their way to the Asia-Pacific conflict. He shipped out on Oct 27, 1944, and arrived there on November 5th, 1944. During his time abroad, his unit took part in the Ryukyus campaign, which was just south of Okinawa. I have included a short article on the campaign at the end of this biography.
At some point, he spent some time as a Navy cook and was also stationed in Hawaii for an unknown period. After thirteen months overseas, he shipped back to the U.S. on December 26, 1945, and landed on January 9, 1946. He received the American Theater Ribbon, Asiatic Pacific Theater Ribbon w/1 Bronze (campaign) star, the Good Conduct Medal and the Victory Medal World War II. He left the service on January 16 1946, at Camp Atterbury, Indiana, as a PFC (Private First Class).
Thurman returned to his career as a florist and worked for the Rutenschroer Florist in Delhi, OH, for 60 years. He later married the former Mary Simpson Smith and they remained together until her death in 2000. He was a member of the Anderson Ferry Church of Christ and both he and his wife volunteered at the Anderson Ferry Food Pantry. He was an avid sports spectator and loved to go to games as well as watch them on TV. He enjoyed playing horse shoes and bowling. He has three grandchildren, Brett and Lorin from Gary and Kendy from Randy. He also has 5 great-grandchildren, Carson from Lorin, Madeline and Maximillian from Brett, and William and Conner from Kendy.
Thurman passed away on January 30, 2009, and was buried at Arlington Memorial Gardens in Cincinnati, OH.
Ryukyus Campaign (26 Mar 45 – 2 Jul 45) in the Pacific Theater
The invasion of the Ryukyus was made by troops of the U.S. Tenth Army, which had been activated on 20 June 1944 with Lt. Gen. Simon B. Buckner, Jr., as commanding general. The Ryukyus campaign began on 26 March 1945 with the capture of small islands near Okinawa, where forward naval bases were established. An amphibious assault on Okinawatook place on 1 April, and the fighting lasted until June. Here, for the first time, Americans were invading what the Japanese defenders considered their home soil, and the defense was fanatic in the extreme. American troops suffered heavy casualties, and the Navy, too, had heavy personnel losses as Japanese suicide flyers, the Kamikazes, sank some 25 American ships and damaged 165 others in a desperate attempt to save the Ryukyus. Among the nearly 35,000 American casualties were General Buckner, who was killed on 18 June. He was succeeded by Maj. Gen. Roy S. Geiger, who was in turn succeeded by General Joseph W. Stilwell, who arrived to assume command of the Tenth Army on 22 June 1945.
Capture of the Ryukyus gave Allied naval and air forces excellent bases within 700 miles of Japan proper. Throughout June and July, Japan was subjected to increasingly intensive air attack and even to naval bombardment.
Units involved in the campaign were as follows: 7th, 27th, 77th, 96th and 98th Infantry Divisions.