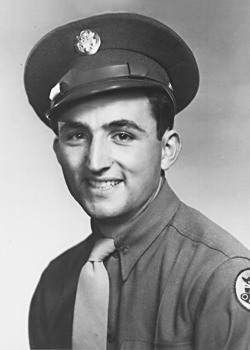 Paul G. Stathes
Biography: Paul G. Stathes was born on September 27, 1922, in Dayton, Ohio. He was the son of Gus and Christine Stathes and attended Roosevelt High School through the 11th grade. He left school in 1941 and managed a bowling alley, which included overseeing its operation, keeping records, purchasing supplies and supervising 18 pin boys. He later worked at the National Cash Register Company, which at that time, had been converted to an armament factory. While there, he operated a variety of machinery and did bench work on naval guns.
Service Time: Paul entered the service on January 6, 1943, and after his initial training was assigned to Company A of the 808th Tank Destroyer Battalion. The unit shipped out from the New York port on August 11, 1944, and arrived in England on the 22nd. On September 19th, they disembarked on Utah Beach in Normandy, France.
Six days later they entered the line east of the Moselle River, where they remained until transferring to the Ardennes on December 21st. They protected the XII Corps flank through January, 1945, and converted to the M36 tank destroyer in February. The unit then supported the drive to the Rhine in March and the river crossings south of Boppard, Germany, late that same month. They joined the Third Army's drive through Erfurt, Nürnberg, and south into Bavaria before advancing to Linz, Austria, in early May.
Paul received the EAME Medal and credit for each of the unit's campaigns including Ardennes-Alsace, Rhineland and Central Europe. He shipped home on July 26, 1945, and arrived back in the U.S., on August 3rd. He left the service on October 9th, at Camp Rucker in Alabama at the rank of Private First Class.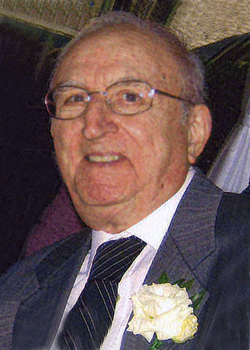 Honorable Discharge
It was only a few months later on December 31st that Paul would marry the former Ann Thomas. She was the daughter of Nick and Nora Thomas and had been born in Richmond, Indiana. The new couple had two children, daughter Chrys born in 1948, and a son Dean "Deno" in 1954. Paul went back to work for the National Cash Register Company and stayed there for 33 years, until 1978, when he went to work for the Delco Products Division of General Motors. He worked there for another 10 years before retiring in 1988.
In his spare time, Paul enjoyed golf and bowling and was a member of the Greek Orthodox Church and the Ahepa, which is a Greek fraternity. Paul passed away on July 30, 2009, and was buried in the Woodland Cemetery in Dayton, Ohio. I want to thank Paul's son, Dean, for providing the information and main photo for this tribute. He also provided additional material on the 808th. I also want to thank Find-A-Grave contributor MFC for the additional photos.