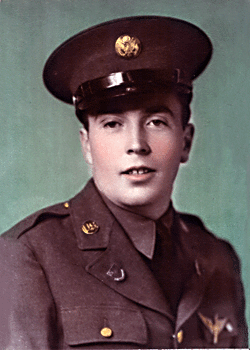 Reese Sherwood
Biography: Reese Sherwood was born on June 9, 1917, in Levan, Utah. He was the son of James Thomas and Mary Ann Sherwood and graduated from Levan High School, which only went to the 10th grade. He was the student body President his first year of High School and enjoyed playing basketball and baseball.
After leaving school, he traveled to Nevada, Idaho, and Montana seeking employment, which included working in construction and farming. When the Selective Training and Service Act was instituted, he registered in Idaho Falls, Idaho. His enlistment record indicates truck driving as his civilian occupation associated with his experience operating trucks, tractors, and heavy equipment while working in construction and farming.

Service Time: Reese entered the service on February 27, 1941, at Fort Douglas, Salt Lake City, Utah. From there, he went to Fort Lewis, Washington, where he was trained on the 155mm Howitzer and as a communications technician. The communications training required him to climb poles using spurs. He also received training as an Army Umpire and was sent to Camp Polk, Louisiana, to officiate war games between the Red and Blue armies during the Louisiana maneuvers.
He was initially assigned to the 218th Field Artillery and shipped out from the U.S. on December 5th, aboard the USAT Etolin. After the bombing of Pearl Harbor, the ship turned around and sailed back to the U.S. He related to family members that he only realized the ship was turning around on the 7th, because of the change in the ship's wake. The flags on the sides of the ship were painted over and there were no lights or smoking on deck during the return trip. Upon reaching the San Francisco harbor on December 10th, the pilot said, "We didn't expect to see you guys again, we thought you were on the bottom." The pilot then raised a newspaper, showing the headlines regarding Pearl Harbor, which was the first mention of the attack to the enlisted men.
Reese spent about a month in San Francisco setting up artillery to defend against an attack. He was then sent to Aberdeen, Washington, for training on the M10 Tank Destroyer. He eventually joined the 641st Tank Destroyer battalion, stationed at Fort Lewis, WA. The picture below left shows an early image of Reese while at Fort Lewis, wearing a WWI style helmet. The photo at right was also taken at Fort Lewis but probably at a later date.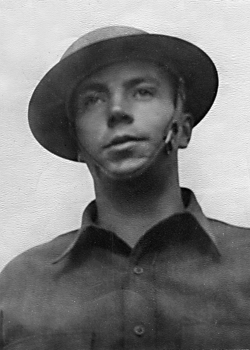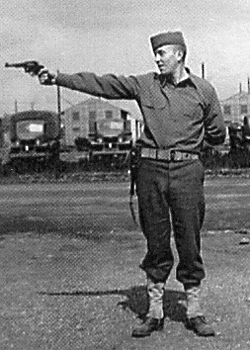 The unit shipped out from the New York port on March 4, 1942, aboard the USAT Uraguay and arrived in Melbourne, Australia (via the Panama Canal) on Apr. 9, 1942. They continued to train and prepare for action for over 9 months, until they set sail and arrived in New Guinea, on January 21, 1943. They entered combat in May, 1944, and on October 16, he qualified as a Sharpshooter with the M-1 Carbine. The photo at left, below, is Reese and another soldier, playing with a kangaroo, while stationed in Austrailia. The photo at right shows him in Australia with what looks like a belt of .50 caliber ammunition.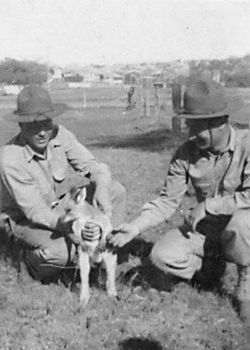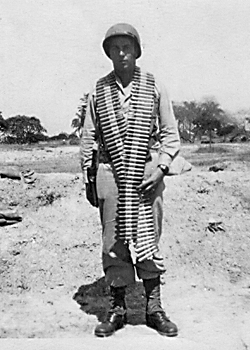 While serving in New Guinea, Reese contracted Malaria and Yellow Fever. After treatment he continued with the unit but was one of a number of men chosen to ship back on points. He shipped back on December 12th, and arrived on the 28th. Upon his return he was assigned to the 1964 Service Command Unit and remained with them until he was discharged on August 12, 1945, at Fort Douglas, Utah.
He received credit for participation in the New Guinea campaign and was awarded the American Defence, Asiatic Pacific Service, American Theater of Operations and the Good Conduct Medals. He left the service at the rank of Sergeant.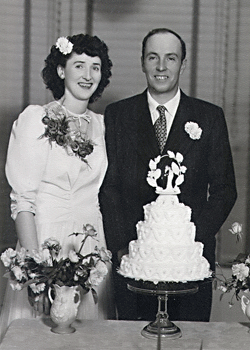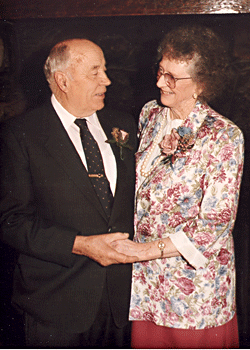 On June 12, 1947, he married the former Mildred Belliston who was born in Nephi. The new couple made their home in Nephi and had three daughters, Kathy, Carol and Carla. Reese worked for the Utah Power and Light company in Provo, Utah but chose employment as a maintenance worker for a rubber plant in Nephi, Utah to be closer to his aging parents. In his spare time, he enjoyed farming, camping, fishing, hunting and many other outdoor activities.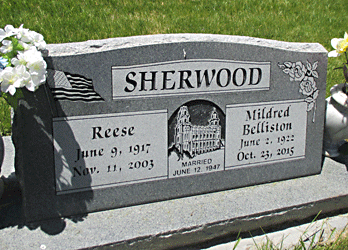 Like many others who served, Reese never liked to speak of his service during WWII but he proudly flew and paid respect to the flag. He was active in the community and participated in the Honor Guard at events celebrating military veterans and military funerals.
Reese passed away on November 11, 2003, and was buried in the Vine Bluff Cemetery in Nephi, Utah. At the time of his passing, he and Mildred had been married for 56 years. We want to thank Reese's son-in-law, Bryan, for providing photos and information used in this tribute. We also want to thank Nora for the use of the grave marker photo.