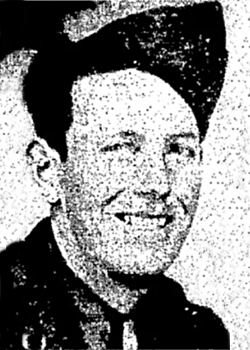 John J. Smith
Biography:  John J. Smith was born on August 18, 1920, and was the son of Henry J. Smith and Margaret M. Corfield. He graduated from Chelmsford High School and then continued his education at the Lowell Textile Institute receiving a 2 year degree.
Prior to the war, he worked as a machinist's helper at the Boston and Maine car shops located in North Billerica, MA. He had served as an altar boy and was a member of the St. John's church in North Chelmsford.
Service Time:  John entered the service on September 15, 1942, at Fort Devens, MA. After his basic training, he was assigned to Company A of the 825th Tank Destroyer Battalion and trained with them at a number of military facilities within the U.S.
The 825th sailed from the New York port on May 30th, 1944, aboard the Queen Elizabeth, arriving in Scotland on June 5th. After an additional two months of training, the men and equipment were loaded on LSTs (Landing Ship Tank) and arrived on Utah Beach in Normandy, France on July 30th. They were equipped with 3-inch towed anti-tank guns and were initially assigned to the Communications Zone where they performed 12th Army Group security duties between August and December, 1944.
Sadly, on November 4, 1944, Pvt. John J. Smith died while serving overseas. We do not know the circumstances of his death but official documentation from the National Archives and the unit history indicate that his death was from non-battle (DNB) circumstances. Information from the family on his grave marker card identifies the location of his death to have been at La Reid in the Province of Liège, Belgium.
For the month of November, official reports for the 825th, have Cpt. Joseph H. Dilbert Commanding and place A Company in La Reid attached to "T" Force of the Third Army, 12th Army Group. Together with elements of the 536th Armored Infantry Battalion, the 825th took part in intensive maneuvering and training in street-fighting with a view to future operations. John may have been killed during these training activities. A Company's secondary mission was to plot the course of the V-1 rockets and identify their origin. A Company had moved 15 miles southeast from the vicinity of Aachen on October 21st to La Reid due to intense V-1 Rocket activity. Although most sources list John at the rank of Private, the Unit History lists him at the rank of Private First Class.
Lowell Sun Article – November 12, 1947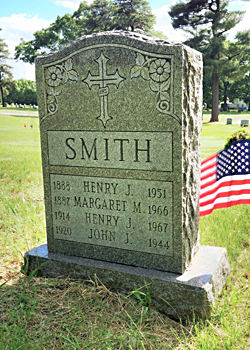 John was buried in a temporary grave and then brought home at the request of his family in November, 1947, as reported by the Lowell Sun newspaper. He was buried in the Saint Patrick Cemetery in Lowell, MA.
Thank you to Find A Grave contributor J.O. for the use of the grave marker photo.