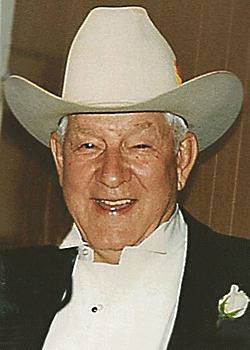 Manuel A. Trujillo
Biography: Manuel Albert Trujillo, "Peco", was born on October 8, 1914, in Magdalena, New Mexico. He was the youngest of six children born to Joe and Raquel Trujillo. When Manuel was five, the family moved to Prescott, Arizona, where his father started a job driving mule trains for the Fort Whipple (Veterans Hospital) Construction Department.
Manuel attended Washington Elementary and then Prescott Jr. and Senior High schools through the 10th grade. While still a young boy, Manuel would round up wild burros and horses which led to his involvement in the rodeo. He worked on area ranches and also did some acting with the likes of Tom Mix and Tex Ritter. To help support his family, he joined the Works Progress Administration.
Manuel played the guitar and banjo and around 1938, he went to California with evangelist Ray Boatright to assist with the music in his crusades and to help set up new churches. Manuel later moved back to Prescott and was able to obtain a job as a Stationary Engineer with the Sante Fe Railroad.
Service Time: Manuel entered the service on March 12, 1942, at Fort Bliss, El Paso, Texas. He received training as a medic and was assigned to the 807th Tank Destroyer Battalion on September 2nd while they were still stationed at Camp Cooke, California. A month later, the unit was sent to Camp Hood, TX for training.
On November 30, 1943, while on leave, Manuel married the former Stella Margaret Martinez in Yuma, AZ. She was born in Wagon Mound, NM and was the daughter of Carlos S. Martinez and Irene Gomez. The new couple made their home in Prescott.
From Camp Hood, the unit moved to Camp Gruber, Oklahoma, and then to the Louisiana maneuvers in September of 1943. From there they were sent to the Desert Training Center and then to Fort Dix, New Jersey, for final preparations for shipment overseas. The unit shipped out from the New York port on August 11, 1944, arriving in Liverpool, England, on August 23, 1944, Less than a month later, they boarded transports and landed at Utah Beach on September 18th.
The 807th fought in the Metz, France, sector from September to November and attacked toward Saarlautern, Germany, in November and December. They battled the German Nordwind offensive in January, 1945, and then shifted north for offensive actions to the Rhine River in March. The unit defended the Rhine bridges in April and converted to M18 tank destroyers in time to join the drive through Bavaria late in the month. They finally reached the vicinity of Salzburg, Austria, in early May. Manuel received credit for two of the unit's campaigns and left the service at the rank of Private First Class.
After returning to the U.S., Manuel went back to work at Fort Whipple and the VA Hospital. He retired from the facility after 29 years. He and Stella had three childrem, Irene, Frank and James "J.C". Manuel was a devoted father and enjoyed the rodeo and camping. The family built a winter home in Kino Bay, Mexico, where he was able to enjoy one of his other interests…fishing. Manuel was also a member of the Fraternal Order of the Moose.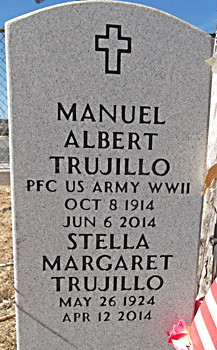 Manuel passed away on June 6, 2014, and was buried in the Mountain View Cemetery in Prescott, AZ. I want to thank Manuel's granddaughter Donna for her assistance and also LeRoy Krsiean for the use of the grave marker photo.