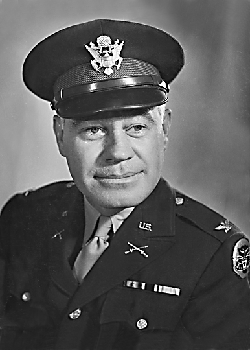 Harry F. Thompson
Biography: Harry Frank Thompson was born on April 27, 1896, in Ponca City, Oklahoma. He was the son of Frank L. Thompson and Mary Schmidt and attended local schools in Arkansas City, Kansas. He had one sister, Ada, nicknamed Addie.
While still a student, Harry participated in an Officers' Training Course at Camp Logan H. Roots, AR. He trained there from May through August 1917, and was then commissioned as a 2nd Lieutenant in the Infantry of the Officer's Reserve Corps on the 15th.
Service Time: On October 26, 1917, he was commissioned as a 2nd Lt. in the Regular Army and a month later, on November 28th, he was promoted to 1st Lieutenant (temporary). Harry was initially assigned to the 34th Infantry Regiment, serving at Fort Bliss, Texas. From there he was transferred to Camp McArthur, TX, in June of 1918. He sailed with his regiment in July 1918, as part of the 7th Infantry Division and arrived in France in October but the war was nearing the end, so they were not sent to the front but was stationed in the Puvenelle sector in November where they did see some action before the armistice on 11th. Some troops were sent to other units but the Division left for the U.S., in January 1919. Harry's 1st Lt. rank was made permanent in June, and the Division shipped home that same month. The ship's transport list identifies that he was serving in K Company at the time. The Division was placed on duty at Camp Funston, KS, as soon as they arrived back. Harry was promoted to Captain on July 1, 1920, and in January 1921, he and his Regiment was transferred to Fort George G. Meade in Maryland.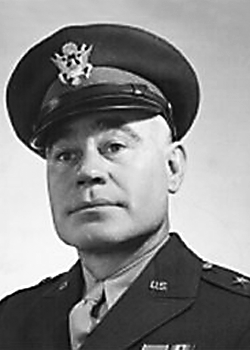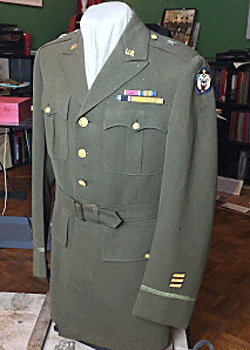 The photos above show Harry at the rank of Brig. General and his uniform jacket showing the Alaskan Defense Command Patch. You can see the Oak Leaf attachment on his Legion of Merit ribbon denoting his second award of the medal. Although somewhat hard to see, his additional ribbons shown include the WWI Victory ribbon, American Defense ribbon, Asiatic-Pacific Campaign ribbon and the WWI Army of Occupation ribbon.
At Harry's request, in September 1921, Harry enrolled in Infantry school at Fort Benning, Georgia, and following his graduation in May 1922, he became an instructor for the North Dakota National Guard located in Fargo ND. He served in that capacity for four years and in September 1926, he went to the Panama Canal Zone for duty with the 14th Infantry Division at Fort Davis located near Gatun, Panama.
In 1928, Harry married the former Helen Louise hunt who was the daughter of Andrew Jackson Hunt and Margie Elizabeth Hambright. The couple would raise a daughter Phyllis, from Helen's previous marriage. They returned to the United States in August 1929, and was then assigned as a professor of military science and tactics at the University of Arkansas in Fayetteville Arkansas. He remained there until August 1935, when he was also promoted to Major.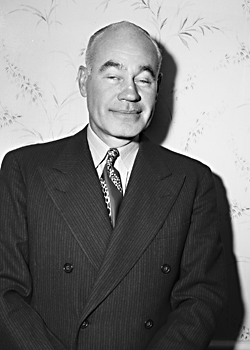 He graduated from the Command and General Staff school at Fort Leavenworth, Kansas on June 1936, and his next assignment was as a Post Exchange Officer at Fort Benning, Georgia. In September 1939, he enrolled in the Army War College in Washington D.C. and graduated in June 1940. He was assigned to the Personnel Division of the War Department General Staff in Washington D.C. and in January 1941, he was appointed by the Secretary of War, Henry L. Stimson, as a member of the War Department Committee on education, Recreation and Community Service. He was promoted to Colonel on December 24, 1941.
The photo on left shows Harry after being named Administrator of Services to Veterans for the National Red Cross organization. This photo is from the Fort Worth Star-Telegram evening edition, October 24, 1946.
In January of 1942, he was named commanding officer of the 893rd Tank Destroyer Battalion at Fort George G. Meade, Maryland but by May, he was assigned to Temple Texas for duty with school troops at the Tank Destroyer Command. He became Commanding Officer, Headquarters Tank Destroyer BUTC (Basic Unit Training Center) at Camp Bowie, TX, at its beginning on November 27, 1942, with Col. Ira W. Black as his Executive Officer and served in that capacity until October 1943, when he named Commanding General, United States Troops in Adak, Alaska, which is an island in the Aleutians. It was during his time at Adak that he was promoted to Brigadier General on April 26, 1943. He also served as administrator of services to veterans for the National Red Cross Headquarters in Washington. He retired on June 30, 1946, with the permanent rank of Colonel.
Among his service decorations, he was awarded the Legion of Merit, in 1944, for "Exceptional Meritorious Conduct in the Performance of Outstanding Service" from November 8, 1943, to May 30, 1944, in the Alaskan Department. He received a second Legion of Merit in 1946, per GO#134 of the War Department.
Harry passed away on June 26, 1980, and was buried in the Riverview Cemetery in Arkansas City, KS.