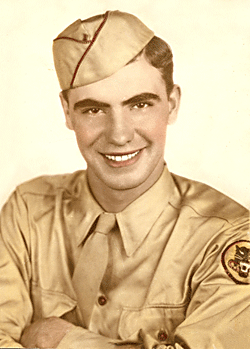 Troy W. Tolbert
Biography: Troy Webster Tolbert was born on July 8. 1922, in Winston Salem, North Carolina. He was the son of Charles Webster Tolbert and Minnie Victoria Lambeth. He attended local schools in Mineral Springs, NC, through the 11th grade.
His enlistment record indicates he was working as a skilled boilermaker prior to the war.
Service Time: Troy entered the service on December 15, 1942, at Camp Croft, South Carolina. After his initial training, he was assigned to the Reconnaissance Company of the 807th Tank Destroyer battalion. The unit trained at a number of facilities within the U.S., including Camp Gruber, Oklahoma, for advanced training. From Camp Gruber they were sent to participate in the Louisiana maneuvers at Camp Polk, Louisiana, in September of 1943.
The 807th was then sent to the Desert Training Center and later to Fort Dix, New Jersey, for final preparations for shipment overseas. The unit finally shipped out from the New York port on August 11, 1944, arriving in Liverpool, England, on August 23, 1944. Less than a month later, they boarded transports and landed at Utah Beach on September 18th, equipped with towed 3″ anti-tank guns.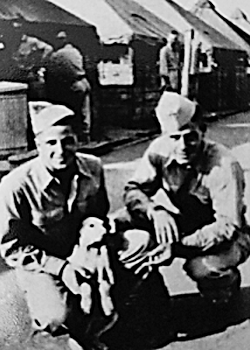 The 807th fought in the Metz, France, sector beginning in September. Reconnaissance Platoons were engaged in patrolling and observation in the vicinity of Thionville, France, staring on October 1st through the 8th. From the 9th through the 12th, they occupied the town of Cattenom, which is located on the west bank of the Moselle river. On the night of the 11th into the 12th, enemy patrols came into the area but were driven out after a short fight. A German Sergeant was taken captive during the action. The next evening, on the 12th, the company was shelled by enemy fire with two men being seriously injured and two men killed, including Pvt. Troy W. Tolbert.
In the photo to the left, Troy is shown on the right with Nicholus Waskul beside him and a puppy they befriended.
The 807th went on to receive credit for campaigns in Rhineland, Ardennes, Central Europe. Troy would have posthumously received the Purple Heart. He was temporarily buried in France and later shipped home and buried in the Woodland Cemetery in Winston-Salem.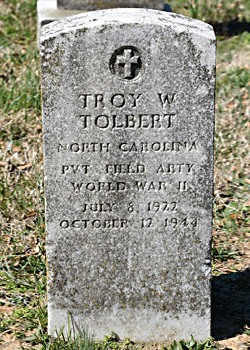 I want to thank Troy's niece, Shellie Tow, for providing the main photo of Troy. I want to thank Cheryl Waskul- Schaeffer for the photo of two soldiers and thank you also to Find A Grave contributor, isable, for the use of the grave marker photo.