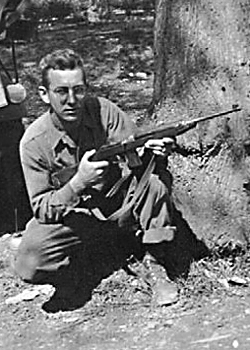 Walter C. Topel
Biography: Walter Carl Topel, "Wally", was born on May 21, 1915, in Peshtigo, Marinette County, Wisconsin. He was one of three sons and three daughters born to Otto Carl Topel and Hulda Annita Anderson. He graduated from Marinette High School in 1935. His draft card indicates he was employed by Twin Cities Glass Company in Marinette, WI, prior to the war.
On June 13, 1941, he married the former Lorraine Alta Anderson in Green Bay, WI. She was born in Stephenson, Michigan and was the daughter of Isak Andersson and Amelia Bryneldsen. They new couple would have a daughter they named Diana. The couple is shown together in the photo below.

Service Time: Wally was inducted and transferred to the Enlisted Reserve Corp on May 8, 1943. He reported for active duty on the 15th. We have very little information on his time in the military, but the photo showing Walter with the carbine has written on the back; "Pfc. Walter C. Topel, A Co. 817th T.D. Bn, APO 758, U.S. Army". These photos were purchased by a friend of this website that was told they came from someone living in the town of Aubel, Belgium. The 817th spent several days of R&R in the town of Thimister, which is approximately 4 miles from Aubel, in February, 1945. Wally may have befriended a family in Aubel and left these photos with them.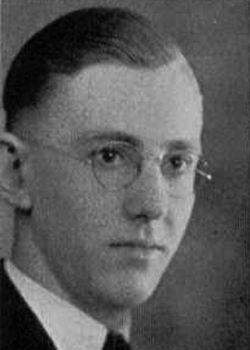 The unit originally trained with self-propelled TDs but was converted to a towed battalion in June, 1943. They trained at Camps Bowie and Hood in Texas and then moved to Camp Phillips, Kansas, and spent additional time at Camp Breckenridge and Fort Campbell, Kentucky, and Tennessee, where they remained during the Tennessee maneuvers. They also spent about five weeks assisting with the wheat harvest in North Dakota, mid-August through mid-September.
The photo at left shows Walter in his senior year at Marinette High School.
From there it was onto Camp Myles Standish, Massachusetts, in July, 1944, where they prepared for shipment overseas. They boarded the U.S.S. Mt. Vernon and sailed without any escorts to protect them, arriving in Greenock, Scotland, on July 31st to begin training for combat in France. They boarded LSTs (Landing Craft Tank) and landed at Utah Beach in Normandy, France, on August 25th.
The unit took up rear-area security duties in France and Belgium and guarded COMZ (Communication Zone) from August to November. They entered battle in the Hürtgen Forest with the 8th Infantry Division on December 9th and shifted to the Ardennes in February, 1945, and then back to the Roer River sector to fire as artillery. Participating in the advance to the Rhine River with the cavalry, they crossed the river at Remagen on March 15th. They were the only towed TD battalion to enter the bridgehead.
The 817th began conversion to M18 tank destroyers on March 26th and joined the 104th Infantry Division at the Ruhr Pocket in April. Two companies joined the drive eastward from Marburg in mid-April, fighting in the Harz Mountains and helped capture Halle and advanced to the Mulde River where offensive operations ceased.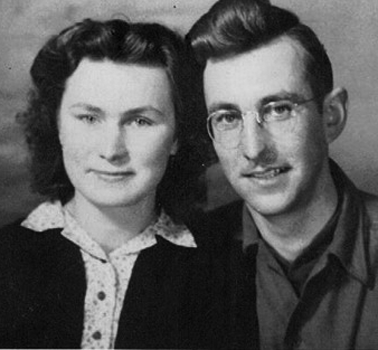 We don't know if Wally was a member of the 817th when they went overseas or arrived later as a replacement. His headstone application indicates he was awarded a Purple Heart medal. It also lists Headquarters, 707th Railway Grand Division as his unit. He may have been transferred to this unit after his 817th assignment but we do not have any solid evidence, other than the photo, exactly when he served with either unit.
Wally left the Army on December 31, 1945 at the rank of Private First Class. He went home to Marinette and Lorraine and worked at Topel Paint and Glass Co. In the 1953 Marinette City Directory, he is listed as Vice President of the company.
Sadly, on December 8, 1953, Walter C. Topel was struck by a hit and run driver and died of his injuries shortly after. He was buried in the Forest Home Cemetery in Marinette, WI. We would like to thank Serge Lemaire for providing the photos of Walter and thank you also to Find-a-Grave contributor L Evans, for use of the grave marker photo.