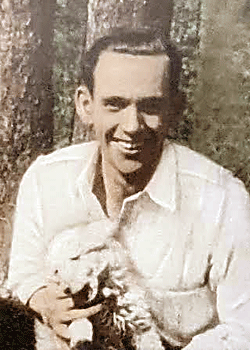 John C. Taylor
Biography: John Charles Taylor was born on August 16, 1922, in Kingsport, Tennessee. He was the son of Deerighter Blackwell Taylor and Grace Morley Wooten and attended the West View school through the 8th grade.
After leaving school, he worked as a farmer.
Service Time: John entered the service on December 8, 1943, and was sent to Camp Hood, Texas, and assigned to Company B of one of the Tank Destroyer Training Battalions that were stationed there. Those units were used to prepare men for service in one of the Tank Destroyer units that would see both U.S. and overseas duty.
Unfortunately, we currently have no additional information on John's time in the military but we know that just over eight months from when he went in, on July 18, 1944, he received an Honorable Discharge, at the rank of Private. He was awarded the WWII Victory Medal and the Honorable Service Lapel Button.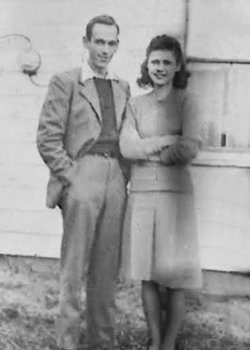 After returning to civilian life, on December 22, 1945, John married the former Virginia Lucille Bellamy who was also from Kingsport and was the daughter of Claude Titus Bellamy and Grace Nevada Collier. The new couple would make their home in Gate City, Virginia. The couple had three children, Judy, born in 1947, Johnny in 1949, and Rudy in 1950.
The photo at left is John and Virginia on their wedding day. The main photo shown above was actually the last photo taken of him.
John worked for the Mead Paper Company and was a member of the VFW and the Oak Glen Baptist Church. He passed away June 11, 1960, and was buried in the Holston View Cemetery, Weber City, Scott County, Virginia. I want to thank John's son, Rudy, for providing the information and photos used in this tribute.