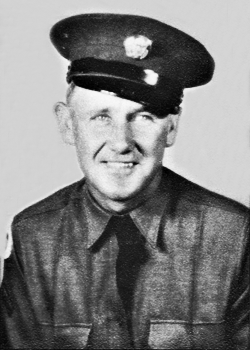 Norman Togstad
Biography: Norman Togstad was born on December 3, 1912, in Albert Township, North Dakota. He was the son of Lars A. Togstad and Trina M Nerhagen. He worked on his father's farm as a laborer until he entered the military.
Service Time: Norman entered the Army and at some point, he was assigned to Company A of the 776th Tank Destroyer Battalion. Various components of the 776th soon began assignments as coastal and installation guards in various locations in the Northwest.
They also trained at Camp Hood, Texas and on January 14, 1943, they shipped out from the New York Port of Embarkation, arriving at Casablanca, French Morocco on the 25th. They fought in the area of Maknassy and Ferryville, Tunisia. Eighteen enlisted men participated in the Sicily, Italy campaign as radio operators and military police.
The unit debarked in the vicinity of Cappaci, Italy, beginning September 19, 1943, and the main body was committed near Rotondi October 10, 1943. On the 18th, the company was moving into the vicinity of Caiazzo, moving north and taking Dragoni the next day. During this period, the company was primarily firing as artillery. On the 24th they moved northwest of Alife and then San Angelo d'Alife followed by bivouac near Prata and Capriati. On November 7th, they made a double crossing of the Volturno River, 1st Platoon moving north of Montequila and two guns of the second platoon moving into Ravindola, followed by the Company Headquarters..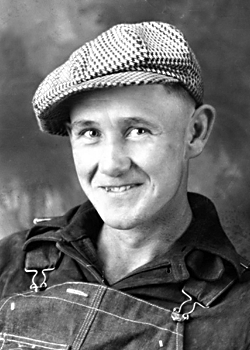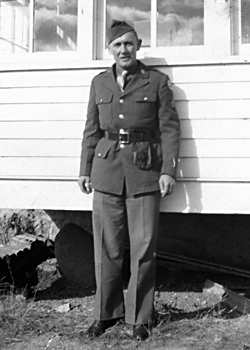 On November 29, 1943, PFC Norman Togstad drowned when the T31 tank recovery vehicle (wrecker) he was driving turned over on a pontoon bridge and fell into the Volturno river he was crossing. A second vehicle also fell in the river but Norman was the only one that died in the incident when he was unable to get out. The event occured in the Dragoni sector of Italy.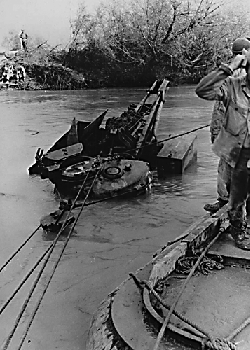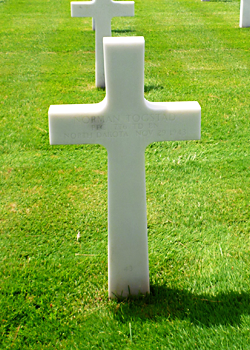 The photo above left is Norman's wrecker being pulled from the river.
Norman was eventually buried in the Sicily-Rome American Cemetery and Memorial, Nettuno, Citta Metropolitana di Roma Camitale, Lazio, Italy. Thank you to Norman's nephew Rodney Adrian for providing information and photos of his uncle. Thank you also to John Richter for use of the grave marker photo and Tom Hubred for the Volturno River photo.