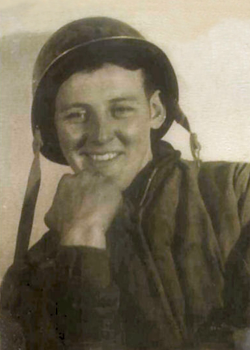 Harry Edward Traynor
Biography: Harry Edward Traynor was born on Nov. 8, 1923, in Philadelphia, Pennsylvania and attended school through the 10th grade.
Service Time: Harry enlisted in the service on June, 17, 1942 and was assigned to the 704th Tank Destroyer Battalion. The 704th saw action throughout Europe. During a battle in the Bannholz Woods (Sinz-Nennig area) in Germany, Harry's tank destroyer, "Blondie", was hit by two Panther tanks. Harry was wounded and picked up and treated by German medics. He ended up as a POW and at some point, he and two RAF pilots were able to make their escape. They were eventually picked up by soldiers of the 6th Armored Division. Harry reached the rank of T/4 during his time in the service and received the following awards; Motor Vehicle Driver's Badge, European-African-Middle Eastern Campaign Medal with 4 Campaign Stars, WWII Victory Medal, American Campaign Medal, Purple Heart with 2 Oak Leaf Clusters, Good Conduct Medal, POW Medal, French Fourragere and the French Croix de Guerre with Palm.
Unfortunately, during that same battle, Harry's best friend, John F. Prusaczyk, who was the Commander of the Blondie crew, was killed. In 1995, a Luxembourger found the engraved canteen cup of John and returned it to Harry. Harry kept it until he passed away. You can see a photo of John's grave marker as well as the tin cup in the Photo Gallery for the 704th.
When Harry returned from the service, he married a school teacher, Regina Marie, in 1946 and together they had Harry Jr., who distinguished himself as a Green Beret in Vietnam, Joey, Stacy, Barbra and Sherrie. During the 1990's, Harry made his residence in the Williamstown area of New Jersey and was retired after 40 years as a fuel truck driver.
He was a member of the 704th Tank Destroyer Battalion Association. In an effort to preserve the history of his experiences in WWII, Harry contributed two articles to the book, Men of the 704 – A Pictorial and Spoken History of the 704th Tank Destroyer Battalion. The book was published in 1998 by Saint Vincent College and their Center for Northern Appalachian Studies. Harry passed away on October 11, 2003. He was buried at Saint Mary's Cemetery, Williamstown, New Jersey.

Thank you to Erwin Verholen for providing this information and the photos. Erwin was a long-time friend of Harry's and they communicated often. The photo below, sent to Erwin, shows Harry during the 1990's.