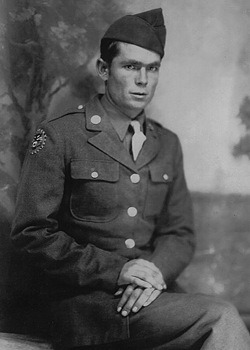 William E. Toole
Biography: William "Bill" Early Toole was born on April 20, 1920 in Cottondale, Florida, which is in Jackson County. He was the son of William McKenzie Toole and Erie Beatrice Paulk and attended the Pilgrims Rest School, Hickory Pond School and the Cambellton School in Cambellton, FL. After leaving school he worked as farmer and as truck driver at the McDill Air Force Base in Tampa, FL.
Service Time: Bill entered the service on December 19, 1942 at Camp Blanding, FL. He was assigned to the Headquarters Company of the 774th Tank Destroyer Battalion, ultimately serving in their Transportation Platoon. He can be seen in the Unit History, in the Transportation Platoon group photo, first row, kneeling on the far left.
Bill shipped out with the unit, landing in Scotland in June of 1944 and France in August. He remained with the unit throughout the war receiving credit for their five campaigns, including Normandy, Northern France, Rhineland, Ardennes-Alsace and Central Europe. Bill left the service on November 3, 1945 at the rank of Technician 5th Grade and received the American Campaign Medal, European-African-Middle Eastern Campaign Medal, WWII Victory Medal and the Good Conduct Medal.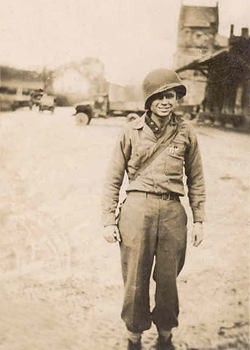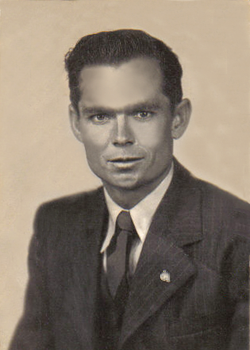 When Bill returned to civilian life, he returned to his truck driving profession but it wasn't long until he would start a family by marrying the former Marge Genell Burch on June 17, 1946. She was the daughter of Mather Burch and Ginny Fordham of Laurens County, GA. The new couple made their residence in Montezuma, GA and later had two children, Richard and Brenda Kay.
Bill also worked as an Industrial Machine Mechanic but in his spare time, he enjoyed dancing. He was a member of the local VFW and the American Legion. Bill passed away on February 4, 1998 and was buried at the Bertha Dozier Cemetery in Montezuma, GA.
I want to thank Bill's son Richard for providing the photos and information for this article.