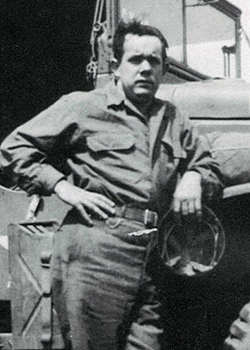 Preston J. Tassin
Biography: Preston Joseph Tassin was born on September 25, 1922 in New Orleans, LA. He is the son of Edwin J. Tassin and Julianne Allemand and attended Westwego High School, completing the 10th grade. After leaving school in 1937, he went to work for his father as a heavy truck driver.
Service Time: Preston entered the service on Dec. 5, 1942 and was assigned to Headquarters Company of the 802nd Tank Destroyer Battalion. It would be there that his expertise as a automotive mechanic would greatly aid in keeping the unit's equipment up and running. His talents extended beyond that of a mechanic, he also qualified as a Marksman with a sub-machine gun.
He shipped out with the unit on Apr. 7, 1944 for England, arriving nine days later. It was on July 1, 1944 that they would land in France and enter into combat near Carentan. Preston continued with the unit receiving credit for the unit's five campaigns, including Normandy, Northern France, Rhineland, Ardennes-Alsace and Central Europe. He received the American Campaign Medal, the EAME Medal, the WWII Victory Medal and the Good Conduct Medal. He left the service on December 6, 1945 at Camp Shelby, MS at the rank of Pvt.
Preston related a story that while stationed at Camp Hood, in the last few days before the unit was to ship out to Europe, he was on guard duty and saw the First Sergeant and the Company Commander pushing a motorcycle up a hill towards the guard gate. Although they were confined to the base, they were attempting to sneak out one last time to see their wives in town. Preston propped his weapon against the guard house and helped them push the motorcycle a safe distance away from the gate. The Officer of the Guard, found Preston's post unattended and confiscated his weapon. When Preston returned to his post, he was presented with his weapon and questioned extensively about who he had helped sneak away. He didn't reveal their identity, knowing they would be in big trouble. He also knew that his life may depend on these same men in the very near future. Preston was busted and disciplined because of the infraction, but when the First Sergeant learned what had happened, he kept an eye out for Preston throughout their service together and covered for him several times. One such time involved Preston showing up for roll call a day late after being away on a pass.

When Preston returned to the states, he went back to work for his father in the trucking business. He would eventually own his own business, Tassin Truck Service. On April 6, 1947, Preston married the former Winnie Marie Boudreaux. She was the daughter of Paul Boudreaux from Lockport, LA. The new couple would make their residence in Westwego, Louisiana. Together the couple would have three sons, Preston Jr, Michael and Robert and two daughters, Genevieve and Karen. In his spare time, Preston enjoys fishing and gathering fresh oysters. He is also a member of the Knights of Columbus and Our Lady of Prompt Succor Church.

Preston was just recently given the Louisiana Veterans Honor Medal as a thank you for his service to this country and the state.
Louisiana Veterans Honor Medal – Letter from the Governor

I want to thank Preston for his service to this country and wish him long life and good health. I also want to thank his son, Preston Jr. for providing the information and photo of his dad.