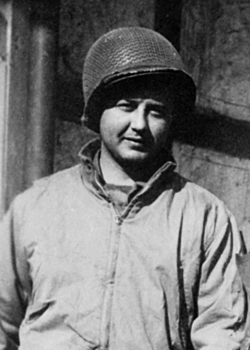 Stanley J. Tomporowski
Biography: Stanley John Tomporowski was born on September 7, 1917 in Erie, PA. After grammar school, he would work at various jobs, ending up as a barber cutting hair. He married the former Evelyn Struniewski and they would make their residence in Paterson, NJ. The couple would have two daughters with the oldest being born during his deployment.

Service Time: Stanley entered the service on February 2, 1942 at Ft Dix, New Jersey. After basic training, he received additional training as a surgical technician and was assigned to the 629th Tank Destroyer Battalion. The unit would see action at Mortain and support the reduction of the Falaise Pocket. They also supported operations in the Hürtgen Forest, Siegfried Line and the Battle of the Bulge. They later converted to M36s and participated in operations against the Ruhr Pocket. The 629th received credit for campaigns in Normandy, Northern France, Rhineland, Ardennes-Alsace and Central Europe. Stanley received a Bronze Star, the American Campaign medal, the WWII Victory medal, Combat Medic Badge and the EAME Campaign medal with Silver Star attachment denoting his involvement in all five campaigns. He left the service at the rank of Technician Grade 5.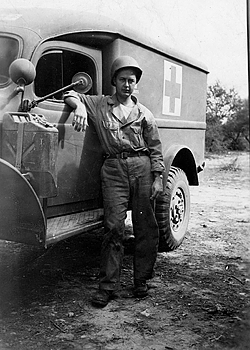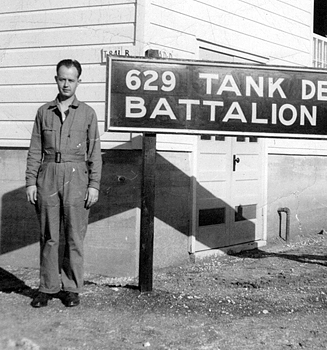 The photo above left shows Stanley with one of the unit's ambulances and in the right image he is standing at the unit's barracks while stationed at Camp Hood, TX on January 9, 1943.
After shipping home, Stanley owned a butcher shop in Garfield, NJ and then worked at Western Electric in Fair Lawn, NJ. When he wasn't working, he loved to fish and was an avid sports fan, enjoying both baseball and football. Stanley passed away in 1986.
I want to thank Stanley's daughter and son-in-law for providing the information and photos for this article as well as a number of other photos and documentation on the 629th.