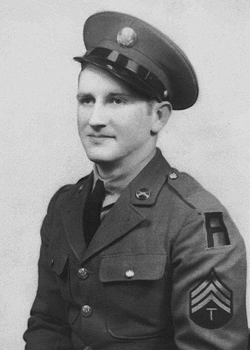 Carl W. Troutman
Biography: Carl Wilfred Troutman was born on September 23, 1917 in Muir, Pennsylvania. He was the son of Harry Franklin Troutman and Elizabeth Barr and attended school in Porter Township through the 11th grade. He left school to work as a coal miner, which was the same occupation that had taken his father's life prior to his birth. On April 15, 1941, Carl married the former Erma Emma Bixler of Hegins, PA. She was the daughter of Rufus Bixler and Frances Hollenbock.
Service Time: On the same day as his marriage to Erma, Carl enlisted in the Army. Carl received training at Camp George Meade, MD and Fort Hood, TX and was assigned to Company B of the 805th Tank Destroyer Battalion. The 805th saw action in North Africa and Italy receiving credit for the Tunisia, Naples/Foggia, Rome Arno, North Apennines and Po Valley campaigns. They were the first unit to use the Towed 3″ guns after the unit's M3s had such a poor showing in the Kasserine Pass. The M18s they received in the summer of 1944 were the only ones used in the Mediterranean theater. Carl rose to the rank of First Sergeant before he was sent home and honorably discharged.
Once back in the states, he and Erma made their residence in Muir and he returned to work in the coal mine. He later worked as the Pennsylvania Civil Defense Supervisor at Indiantown Gap, PA till about 1969 when he went to work for the Williams Valley School District as a Maintenance Supervisor. Carl and his wife would welcome two children into the family, Carol born in 1946 and Richard born in 1948. In his spare time, Carl enjoyed gardening and fishing and spending time with his family. He was also a lifetime member of the American Legion.
Carl passed away on April 29, 2010 and was buried in the Fairview Cemetery in Muir, PA. I want to thank Carl's son Richard for providing this information and photo of his dad. I also want to thank him for his service to this country in the Vietnam war. Obviously Carl's service in the tank destroyers made a positive impression on his son.