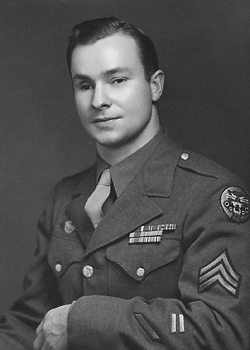 Norbert J. Titzer
Biography: Norbert Joseph Titzer was born on September 20, 1918, in Evansville, Indiana. He was the son of John Adam Titzer and Clara Helen Hirsch and attended St John School in Elberfeld, IN and F. Rietz High School in Evansville. After leaving school, he worked as a freight handler and truck driver.
Service Time: Norbert entered the service in October of 1941, at Fort Benjamin Harrison, Indianapolis, Indiana.
Co. A-3 Group Photo – Taken at Fort Benjamin Harrison, Indianapolis, IN, in October of 1941. Norbert is shown, sitting third from the left, in the first row. A list of the men's names are provided as page two of the photo.

He was then sent to Camp Wolters, Texas, and assigned to Company D of the 55th Infantry Training Division. On January 25, 1942, he joined Company B, 3rd Platoon, of the 607th Tank Destroyer Battalion.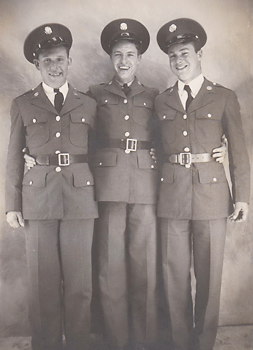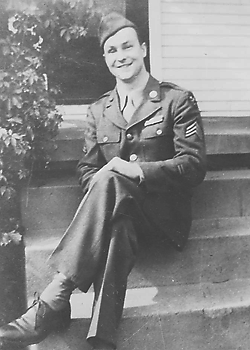 The photo above left, which was taken at Camp Wolters, shows Norbert on the right with Henry Jamison, center, and Charles Hardesty on the left. This would have been while Norbert was still part of an infantry unit. The photo on the right was taken in September of 1945 after he had returned to the U.S.
The 607th entered combat on June 17, 1944, with towed 3″ guns and later converted to M36 tank destroyers in November, just prior to the final battle for Metz, France.. They played key roles in actions at Metz, Saarlautern, the Siegfried Line and Koblenz.

On March 4, 1945, while in Kerschenbach, Germany, Norbert received a serious eye/head injury when a shell expoded near him during an enemy artillery barrage. He was evacuated and shipped back to the U.S. for additional treatment. He was discharged on December 14, 1945, at Kennedy General Hospital, in Memphis, Tennessee. He received a Purple Heart for his injuries and was awarded a Bronze Star, the EAME Medal, American Defense Medal, American Theater Medal, WWII Victory Medal and the Good Conduct Medal. He received credit for four of the unit's campaigns, Normandy, Northern France, Rhineland and Ardennes-Alsace and left the service at the rank of Sergeant.
Honorable Discharge – Separation Report
After returning to the U.S., Norbert attended Freight Traffic Vocational School, graduating in 1946. On October 17, 1953, he married the former Jeanette Fascia from Chicago, Illinois. She was the daughter of John Fascia and Josephine Pavese. The new couple made their home in Berkeley, IL. They had two children, Gary, born in 1956, and Donna in 1959.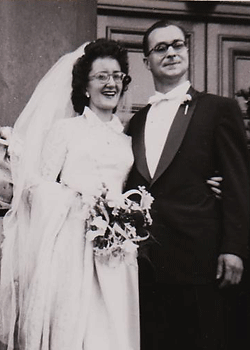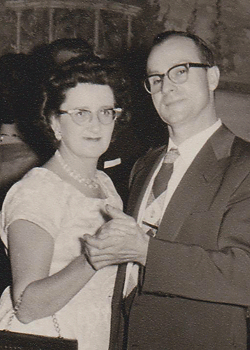 The photo above left is Norbert and his new bride, Jeanette, at their wedding. The right photo shows the happy couple dancing many years later.
Norbert worked as a televison parts assembler and receiving clerk. In his spare time, he loved photography, travel, gardening, music and dancing. He also enjoyed attending car shows. He passed away on June 6, 2000, and was buried in the Queen of Heaven Cemetery, Hillside, IL.