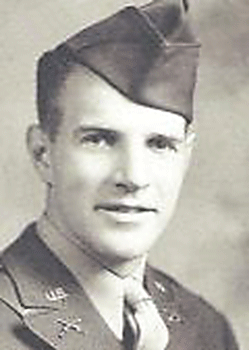 Tennant, Wayne E.
Biography: Wayne Everett Tennant was born on June 16, 1918. and was the son of John Leonard and Emma Tennant. His early days were spent on a farm located near Ansley, Nebraska. He graduated from Broken Bow High School in 1935.
Service Time: Wayne entered the service in February 1941, and was chosen to attend Officers Training School. He graduated in 1942 as a 2nd Lieutenant and was assigned to the 705th Tank Destroyer Battalion. He was made C Company Commander and continued with the unit throughout their service time.
The 705th landed at Utah beach, in Normandy, on July 18, 1944, equipped with M18s. They participated in the Cobra breakout and then moved west to join the Brittany Campaign as part of Task Force A. The unit reached Brest, France, in late July into early August and continued to help clear the Crozon Peninsula.

Moving east, they continued to the Moselle River, crossing the German border before moving North to Aachen and then Bastogne in December. The 705th participated in the famous defense of the city with the 101st Airborne. They supported the drive to the Rhine, crossing at Oppenheim in March. The unit ended up in Austria in May of 1945.
The 705th participated in five campaigns, including Normandy, Northern France, Rhineland, Ardennes-Alsace and Central Europe. Wayne received a Purple Heart and Bronze Star as well as being included in the unit's Distinguished Unit Citation, which they earned for their actions in the defense of Bastogne.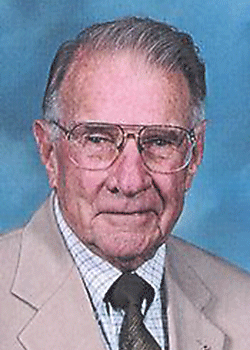 Wayne returned to the U.S. and went to work for the Los Angeles Harbor in their Engineering Department. He also married Norma and the couple had one child, Debbie. He retired in 1978 but worked another five years for a construction company in the Los Angeles area. It was after that time that he moved to Loveland, Colorado.
Wayne was a lifetime member of the Disabled Veterans Association, the Veterans of the Battle of the Bulge, the VFW, the American Legion, the Military Order of the Purple Heart, and the Elks. He also served as President of the 705th Tank Destroyer Association and was past Governor of the 11th Armored Division Association. He was also a member of the Loveland Cosmopolitan Club.
Wayne passed away on March 30, 2013, and was buried at the Resthaven Memory Gardens in Fort Collins, CO.
Mr. Tennant was a personal help and encouragement to me in my early days of research into my father's unit. I contacted him when I learned that the 705th had served with the 6th TD Group during the Brittany Campaign. At the time, I believe he was President of their Association and was listed as the contact for the group. He was very encouraging to me and one of a number of key people who I give credit to for the website we have today. -Rob