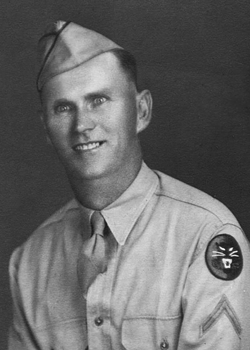 Elroy O. Turnquist
Biography: Elroy Oscar Turnquist was born on May 6, 1909, in White Lake, South Dakota. "Roy" as he was know, was the son of Oscar John Turnquist and Frances Gardner and attended school through the grammar levels. He later worked as a typesetter for a newspaper in Omaha, Nebraska. Around 1940, Roy was married briefly but the relationship was disolved before the end of the war.
Service Time: Roy entered the service on May 18, 1942, at Pueblo, Colorado, and was ultimately assigned to the Headquarters Company of the 820th Tank Destroyer Battalion. While attending a U.S.O. dance at Camp Breckinridge, Kentucky, Roy met a girl named Julia with whom he would start a relationship.
The 820th shipped out from from the Boston port on October 7, 1944, and arrived at Liverpool, England, on the 15th. Two days later, the unit landed at Omaha Beach with towed 3″ guns. They moved to the Ardennes sector in early December, where the battalion was deployed with the 106th Infantry Division in the path of the German offensive. The unit converted to M18's in early 1945, and supported operations in the Ruhr Pocket in April 1945. In early May, they had crossed Germany to the Mesto Touskov area in Czechoslovakia. The unit received credit for three campaigns of the Rhineland, Ardennes-Alsace and Central Europe.
Roy left the sevice and worked as a printsetter in Shawneetown, Illinois, and later as a mail carrier in Morganfield, Kentucky. On October 2, 1948, he married the former Julia Isabel Drury who was born in Morganfield and was the daughter of George Lucian Drury and Margaret Isabel Hite. The couple remained in Morgantown and had three daughters, Margaret, born in 1951, Elizabeth Ann in 1953, and Rose in 1955. Roy also became an independant contractor and landlord.
In his spare time, Roy enjoyed auctions and was a member of the Knights of Columbus and the VFW. He passed away on October 20, 1983, and was buried in Morgantown, KY. I want to thank Roy's daughter, Rose, for providing the information and photo for this tribute.