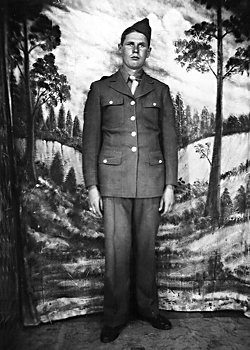 Rodney M. Taylor
Biography: Rodney Miles Taylor was born in March of 1923, in Yost, Utah. He was the son of Joseph and Olive Taylor and attended local school through the 11th grade. After leaving school, Rodney worked raising cattle.
Service Time: Rodney entered the service on December 22, 1942, at Salt Lake City, Utah. Four of his brothers also joined at that same time. Rodney was assigned to 3rd platoon of the Reconnaissance Company, 817th Tank Destroyer Battalion. They shipped out from the Boston Port on July 24, 1944, and arrived at Greenock, Scotland, on the 31st. Just under a month later, they were loaded on ships and made landing at Utah Beach on August 25th.
The unit took up rear-area security duties in France and Belgium and guarded COMZ (Communications Zone) from August to November. They entered battle in the Hürtgen Forest with the 8th Infantry Division, on December 9th, and shifted to the Ardennes in February, 1945. They moved to the Roer River sector to fire as artillery and participated in the advance to the Rhine River with the cavalry. They crossed at Remagen, on March 15th, and were the only towed TD battalion to enter the bridgehead.
On March 26th, they began conversion to M18's and then joined the 104th Infantry Division at the Ruhr Pocket in April. Two companies from the 817th joined the drive eastward from Marburg in mid-April, fighting in the Harz Mountains. They helped capture Halle and advanced to the Mulde River where offensive operations finally ceased. Rodney left the service at the rank of Private First Class.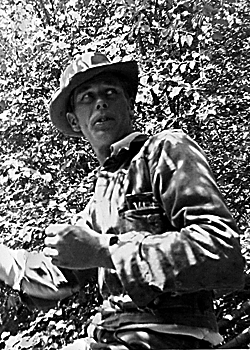 Rodney returned to Utah and his former occupation of cattle raising. In 1948, he married the former Valoy Lamb who was from Plymouth, Utah. The couple had five children, four girls and one boy. Rodney later worked at Hill Air Force Base in their refueling group and the family lived in Plain City, Utah. He retired after 36 years with the government. In his spare time, he loved to fish and take part in any adventure he could. He was always fun loving and a very giving person.
Rodney passed away in January of 1991. I want to thank Rodney's son for providing the information and photos used in this tribute.