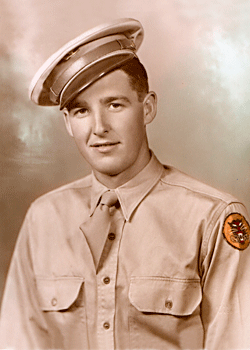 Sterling W. Troutman
Biography: Sterling Wade Troutman, who went by "Pat", was born in March 17, 1920, in Bridgeport, Washington. He was the son of John Wade Troutman and Dora Hopp and attended Bridgeport High School, graduating in 1937. He furthered his education at Washington State University, where is studied for an additional year. He then worked as a farmer.
Service Time: Pat entered the service on April 15, 1943, at Spokane, Washington. He was trained as a tank destroyer soldier but, at some point, was transferred into the 186th Infantry Regiment of the 41st Infantry Division. His military specialty was light truck driver.
The 186th saw their first action in Papua-New Guinea while working with the other elements of the Division and the Australian Army. They helped battle difficult resistance by Japanese troops during the campaign, which lasted from early January into September 1943.
In April, 1944, they landed in New Guinea and helped secure that archipelago by late July. They then shifted their efforts to the invasion of the Philippines, going ashore on Palawan Island, in the southern Philippines, in February, 1945. That campaign lasted for the remainder of the war. The 186th was scheduled to take part in the invasion of Japan, planned for November, but the war ended, allowing the Regiment to enter Japan peacefully as occupation troops instead. In December, 1945, the Regiment, and the 41st Division, were deactivated in Japan and left active service.
Pat received credit for campaigns in New Guinea and the Southern Philippines and was awarded the Asiatic-Pacific Service Medal, the Philippine Liberation Medal, the Good Conduct Medal and the WWII Victory Medal. He received the Combat Infantryman Badge, the Driver and Mechanic Badge, and qualified as a Sharpshooter with the M1 Rifle.
He left the service on January 9, 1946, at Fort Lewis, Washington, at the rank of Sergeant.
After returning home, Pat continued to farm, growing wheat and apples. On March 3, 1947, he married the former Betty Jean Morris who was also born in Bridgeport and was the daughter of Luther Morris and Maude Mineard. The couple made their home in Brewster, Washington.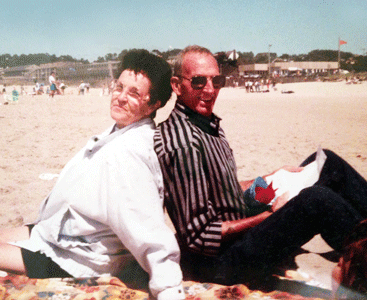 Pat and Betty had three children, two girls, Patsy and Julie, and a son, Mike. In addition to his farming duties, he was a member of the Brewster Bridle Club, the Three Rivers Toastmasters club, the Brewster Grange and a 50 year member of the American Legion. He also served on the Brewster School Board from 1958 to 1973.
Pat passed away on July 17, 1996, and was buried in his hometown of Bridgeport. I want to thank Pat's granddaughter, Tarah, for providing the photo and information for this tribute.