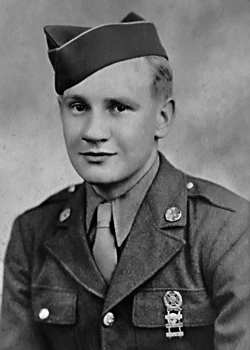 Jerry J. Tucker
Biography: Jerry Joe Tucker, who went by "Joe", was born on August 29, 1926, in Lagro, Indiana. He was the son of Raymond Tucker and Florence Baumgardner and attended school in Lagro through the 8th grade. He later worked as a furnace operator, possibly in the metal refining industry.
Service Time: Joe entered the service on November 25, 1944, at Indianapolis, Indiana. He was trained as an Infantry Replacement as part of Company D of the 5th Training Battalion, located at Camp Wheeler, Georgia. His military occupation was automotive mechanic and during his training he qualified with the M1 Rifle as a Sharpshooter. From there he moved to the AGF Replacement Center at Fort Meade, Maryland. He shipped overseas on April 8, 1945, arriving in Europe on the 13th.
He was assigned to A Company of the 773rd Tank Destroyer Battalion and served with them while clearing the Czechoslovak-German border. He received credit for the Central Europe Campaign and was awarded the EAME Medal, WWII Victory Medal and the Good Conduct Medal. His service after the war qualified him for the Army of Occupation Medal.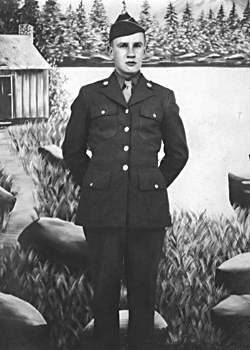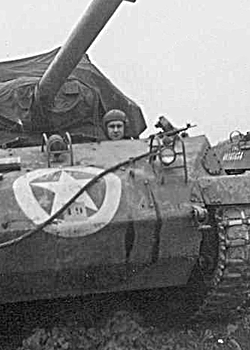 As many men and units were shipping home, Jerry's late entry into the war meant he would either be shipped to the Pacific or remain in Germany as part of the occupational forces. Jerry was assigned to the Constabulary Force, serving in the United States Zone, maintaining general military and civil security. Their purpose was to assist in the accomplishment of the objectives of the United States government in Germany and to control the borders of the United States Zone. Joe was assigned to Deggenorf, in South-East Germany, for at least a portion of his service. You can see in the right photo below, he is wearing the Constabulary Force patch.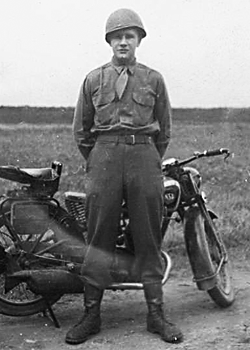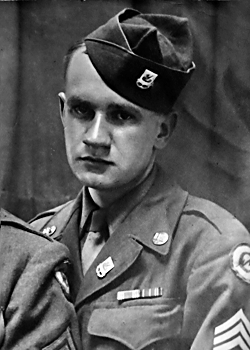 Joe left Europe on August 11, 1946, arriving in the U.S. on the 20th. He was discharged on August 26th at Fort Sheridan, Illinois, at the rank of Technician 4th Grade.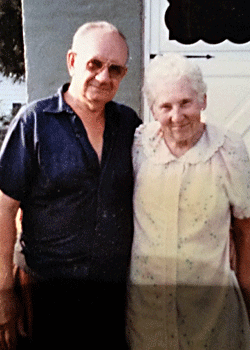 Joe returned to Indiana and found work as a mechanic for the Fort Wayne Parks Department. He remained there until he retired in 1989. On August 3, 1947, he married the former LaVon Elizabeth Piepenbrink who was from Huntington, Indiana. The couple had two children, a son, Melvin, and a daughter, JoEllen. In his spare time, Joe enjoyed woodworking and fishing. He was also a member of the American Legion in Lagro.
Joe passed away on July 31, 2003, and was buried in the St. Peters Lutheran Church Cemetery, located in Columbus City, Indiana. I want to thank Joe's grandson, Jonathan, for providing the photos and information for this tribute.