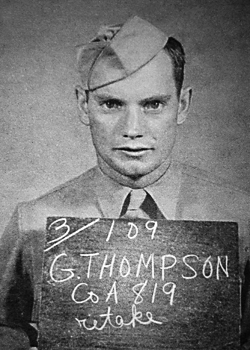 George A. Thompson
Biography: George Albert Thompson was born on February 28, 1918, in Hardin County, Kentucky. He was the son of Edward Thompson and Melissa Jenkins and attened local schools through the 8th grade. His enlistment record identifies that he worked in the manufacture of furniture prior to the war.
Service Time: George entered the service on may 12, 1942, and was assigned to Company A of the 819th Tank Destroyer Battalion, which served in the Pacific Theater of Operations. They shipped out from the San Francisco port in March of 1944, on the USS George O. Squier. They arrived in Hawaii on March 24th and went through an intense series of training, schooling and re-organization to prepare them for action in the Pacific.
The unit shipped out from Honolulu on January 17, 1945, aboard the USS Eastland, and stopped briefly for refueling in the Marshall Islands. They continued as part of a convoy arriving at Peleliu, Palau Islands, on February 1st. They were assigned to island defense duties as part of the 111th Infantry Regiment.
Portions of the unit began patrols of Palau while others began indirect fire on surrounding islands in an attempt to flush out enemy positions. The unit received credit for the Western Pacific (Peleliu) Campaign. George left the service at the rank of Sergeant.
George returned to the U.S. and found work as a machine operator at the Anaconda Aluminum Company. On November 7, 1946, he married the former Lois Cora Mitchell. She was born in Princeton, Kentucky, and was the daughter of Lonnie Mitchell and Mable Larkins. The new couple made their home in Louisville, KY.
In his spare time, George enjoyed gardening and was a member of the St. Lawrence Catholic Church and St. Martin's Brotherhood. He and Lois had five children, Carol, Jerry, Cathy, George and Teresa. On March 21, 1987, George passed away and was buried in the Louisville Memorial Gardens West, located in Louisville, KY.
I want to thank George's son, George, for providing the information and photo for this tribute.