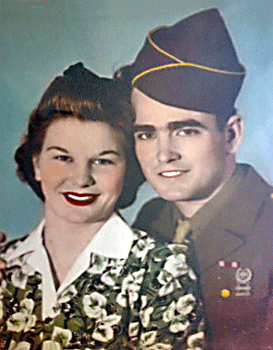 James F. Thompson
Biography: James Franklin Thompson was born on October 15, 1918. He attended school through the grammar level and worked in a lumber mill prior to the war. On October 29, 1942, he married the former Dorthy Olene Solley who was born in Atlanta, Texas, and was the daughter of John Ellis Solley and Doris Spivey.
Service Time: James entered the service on December 28, 1942, at Tyler, Texas. After his initial training, he was assigned to Company B of the 704th Tank Destroyer Battalion which shipped out from the Boston port on February 27, 1944, and arrived in the United Kingdom on March 12, 1944.
They were the first battalion in the ETO to receive M18's, in May and landed at Utah Beach on July 13th. The unit participated in the Cobra breakout at the end of the month and advanced into Brittany, then racing east across France, passing north of Orleans, and crossing the Moselle River to Luneville in early September. They remained in the general area through October and then fought in the Morhange region in November and crossed the Saar River by month's end.
The 704th was deployed to the Ardennes on December 19th and fought around Bastogne in January 1945. They were then moved back south, advancing into Germany near Sinz in February, fighting through the Siegfried Line and into the Saar-Moselle triangle. They supported the drive to Bitburg in March and reached the Rhine River by mid-month, crossing on March 24th at Nierstein. By April 4th they had roared east to Gotha and passed through the Harz Mountains to Bayreuth in late April, finally entering Czechoslovakia at Volyne on May 6th.
The 704th received credit for participation in the campaigns of Normandy, Northern France, Ardennes-Alsace, Rhineland and Central Europe. James was awarded the Bronze Star and left the service at the rank of Corporal.
Now back in the U.S., James found work as a facility maintenance painter for the Monsanto Company of Texas City, TX. In his spare time, he enjoyed carpentry and raising cattle. The couple had three children, Jackie, born in 1947, Betty in 1949 and Marilyn born in 1951.
In addition to his work and family responsibilities, James was also an active member and usher for the Cass Baptist Church. James passed away on May 24, 2006, and was buried in the Cass Cemetery in Bloomburg, TX.

I want to thank James' son-in-law, Major Gary L. O'Day, a retired U.S. Air Force Chaplain, for providing the photo of James and information for this tribute.