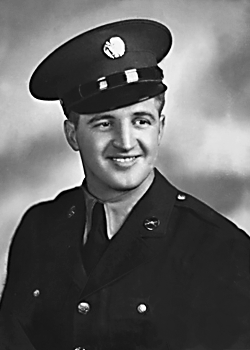 John W. Tusing
Biography: John William Tusing was born on June 12, 1918, in New Kensington, Pennsylvania. He was the son of William Tusing and Annie C. Cogley and attended New Kensington Schools, graduating in 1937. He then went to work for American St. Gobain, which was a glass manufacturer.
Service Time: John entered the service on September 22, 1941, at Fort George G. Meade, Maryland. He was assigned to Company C of the 805th Tank Destroyer Battalion and trained with them in the U.S., including Camp Hood, Texas, serving as a driver and assistant driver on one of the unit's M3 tank destroyers.
The unit shipped out from the New York port, on August 5, 1942, and arrived in England on the 18th. After a few months of additional training and preparations, they shipped out again, landing in Algiers, Africa, on January 17, 1943.
The 805th was committed to actions at Gafsa, Tunisia, and on February 17th, at the battle of Kasserine Pass, John W. Tusing was captured. From the time of his capture, he was moved to various locations until August, when he was interred at Stalag 2B, near Hammerstein, Poland. John kept a very detailed diary and his notes correspond to the recorded history of the battle that resulted in his capture. He wrote that thousands of American troops were bypassed on three hills and knowing that they were surrounded, they had no choice but to surrender.
During his time as a POW, John was able to utilize the German language skills he learned in school to help interpret between his fellow POWs and their guards. He felt this capability helped him survive this terrible ordeal. He rarely spoke about his experiences with his family but did tell them that they would receive a warm potato on cold days as part of their rations. John wouldn't eat his immediately but kept it in his pocket to help him stay warm, only eating it after it had become cold.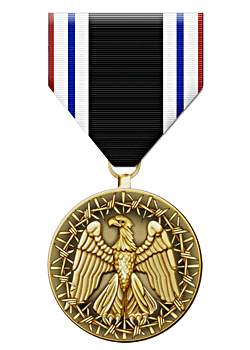 John remained a prisoner until the very end of the war, a period of over 2 years and three months. He received the Purple Heart and the POW Medal (shown on left) and left the service at the rank of Corporal.
After John returned to the U.S., he also returned to American St. Gobain and later worked for Architectural and Aluminum Specialty Company. On November 19, 1949, he married the former Evelyn Francis Riggle who was born in Vandergrift, PA, and was the daughter of Laird Riggle and Freda Peppler. The new couple made their home in Arnold, PA, and had two children, Allen, born in 1951, and Karen in 1954.
In his spare time, John enjoyed playing golf and was a member of the First Lutheran Church in New Kensington. He passed away on March 11, 1992, and was buried in the Greenwood Cemetery in Lower Burrell, PA. I want to thank John's son, Allen, for providing the information and photo for this tribute.