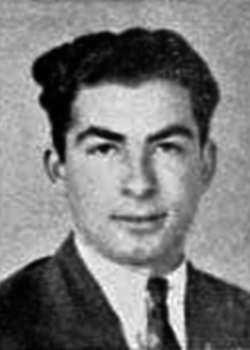 Frank Tanzella
Biography: Frank Tanzella was born on August 5, 1918, in Beverly, Massachusetts. He was the son of Nicololas Tanzella and Palma Saponare who both were born in Italy and immigrated to the United States.
Frank attended Beverly High School, graduating in 1937. While in school he was Subscription Manager for the yearbook and reportedly did very well at it. He also played on the school's football team and was a letter-man his senior year. The team had a winning 6 – 3 record.
He wanted to be a successful businessman in the future but spent his leisure time hunting, fishing and other outdoor sports. In 1940, he was working as a truck driver but his enlistment record states that he worked as a semiskilled mechanic and repairman prior to entering the service.
Service Time: Frank entered the Army on February 6, 1941, at Boston, Massachusetts. After his basic training, he was assigned to the 702nd Tank Destroyer Battalion. At some point after his enlistment, he married the former Catherine L. Powers who was also from Beverly and was the daughter of James Powers and Marion Morse.
The 702nd shipped out equipped with T70s (M18's) before shipping to the United Kingdom, where the battalion arrived on 25 February, 1944, only to be issued M10's. They landed at Omaha Beach on 11 June and entered the line at Livry on 2 July. They formed part of the 2nd Armored Division's spearhead during the Cobra breakout in late July. The unit was assisting in the anti-tank defense of the assembly area for CCA (Combat Command A) and provided indirect fire on Villebaudon on July 27th. They were alerted at 1500 hours and moved out at 2200 hours on the 28th and attacked south toward Moyen. Heavy resistance was encountered. It was during these actions, on July 28th, that Staff Sergeant Frank Tanzella was killed. He received the Purple Heart posthumously for his sacrifice. Records indicate that one other man was killed and nine others were wounded.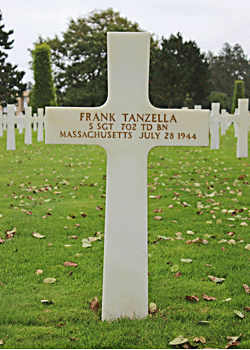 Frank was eventually buried in the Normandy American Cemetery in Colleville-sur-Mer, France, Plot C, Row 24, Grave 16.
I want to thank Frank's distant cousin, Alison Connelly, for providing the main photo and information for this tribute. I also want to thank the staff at the Normandy American Cemetery for providing the photo of his grave marker.