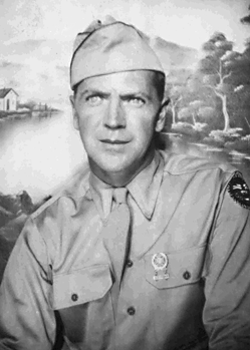 Elliot H. Thompson
Biography: Elliot Hamilton Thompson was born on June 23, 1912, on Chebeague Island, Maine. He was the son of Eugene Richard Thompson and Mildred Rachel Hamilton and attended local schools on the island, through the 11th grade. He then worked at a golf course as a greens-keeper. He entered the WPA (Works Progress Administration) started by President Roosevelt, and apprenticed as a steamfitter.
On December 21, 1936, Elliot married the former Ruth Ellen Callahan. She had also been born on Chebeague Island also and was the daughter of Theodore H. Newcomb and Margery Jane Cleaves. The couple would make their residence in Portland, Maine, and have a son, Robert born in 1943.
Service Time: Elliot entered the service on November 22, 1943, at Portland, Maine. Starting in April of 1944, he spent 12 weeks at Camp Hood, Texas, participating in their Automotive School. He was then sent to Granite City, Illinois, for 12 weeks, from August through November, taking part in the Engineer School located there. His training at the schools would prepare him for work as a Construction Machine Mechanic.
Elliot shipped out on January 21, 1945, arriving in the Pacific Theater of Operations on March 19th. At some point, he was assigned to the 1487th Engineering Maintenance Company, which had been activated on May 1, 1944. The unit was formed when a 2nd Lieutenant and 24 enlisted men from the 978th Engineering Maintenance Company were sent to Camp Pickett, Virginia. The 1487th would go on to serve in the Philippines and receive credit for the Luzon Campaign.
Elliot received the Asiatic Pacific Theater Medal with one campaign star for Luzon, the American Campaign Medal, the Philippine Liberation Medal, the World War II Victory Medal and the Good Conduct Medal. He shipped back to the U.S. on January 27, 1946, and arrived on February 7th, finally leaving the service on the 17th, at Fort Devens, Massachusetts. He had reached the rank of Technician 3rd Grade.
Elliot combined his earlier work experience with what he learned in the Army and became a pipe-fitter. He and Ruth would have a second child, Vicki born in 1947. In his spare time, Elliot enjoyed reading and was also a member of the Masons. He is remembered as someone that could fix anything.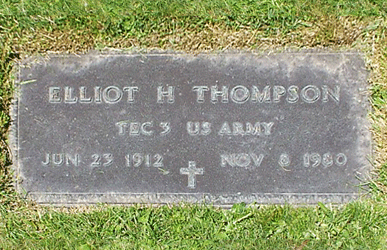 Elliot passed away on November 8, 1980, and was buried in the Brooklawn Memorial Park in South Portland, Maine. I want thank Elliot's daughter Vicki for providing the information and main photo for this tribute. The grave marker photo provided courtesy of Find-A-Grave volunteer, Peter Morgan.