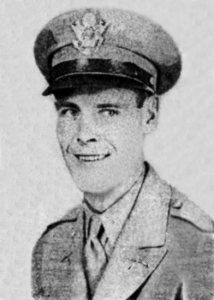 Robert M. Terril
Biography: Robert Marion Terril was born on August 1, 1915, in Columbus, Montana. He was the son of Fred Terril and Bertha Yaden. The 1920 U.S. Census indicates the family was living in Millican, Oregon. By 1930, the family is living in Pullayup, OR and his mother is head of the household. He attended Pullayup High School, graduating in 1934.
Service Time: Robert enlisted in the Army on September 30, 1940, in Tacoma, Washington and was assigned to Company A, 103rd Antitank Battalion, serving as a clerk. The 103rd Infantry Antitank Battalion was organized during the summer of 1940 as a revision of certain units assigned to the Washington National Guard with a home station at Tacoma, WA. The Battalion was federally recognized on September 30, 1940. On February 10, 1941, he was inducted into active service. A roster of the unit shows Robert listed as a Sergeant in Company A.
On September 12, 1941, in the Post Chapel at Fort Lewis, Washington, Robert married the former Olive Stubbs from Lebam, Washington. She was the daughter of James A. Stubbs and Emma B. Richmond. On October 29, 1943, they had a daughter, Myra Jane.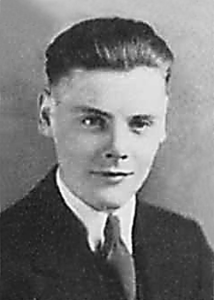 On December 12, 1941, the 103rd Antitank Battalion was redesignated as the 803rd Tank Destroyer Battalion. They continued training at Fort Lewis and also performed some coastal guard duty along the Columbia River and north along the Washington Coast. Additional field training along with marches through coastal OR and WA was followed by a move to Camp Hood, Texas, in August, 1942. In early November, Robert was selected to attend OCS (Officer Candidate School) and on February 10, 1943, he was honorably discharged from the regular Army and accepted a commission as a 2nd Lieutenant.
At some point, Robert was transferred to the 772nd Tank Destroyer Battalion. We don't have any information as to whether this occurred while he was still with the 803rd, following his graduation from OCS or at a later date.
The 772nd went into action with the 83rd Infantry Division, in Germany, on December 22, 1944 utilizing towed 3-inch anti-tank guns. They moved to Belgium on the 27th. The unit joined the 75th Infantry Division on January 1, 1945. On January 18th, Company B destroyed the unit's first enemy tank near Petit Thier, Belgium. On January 27th, they moved into France.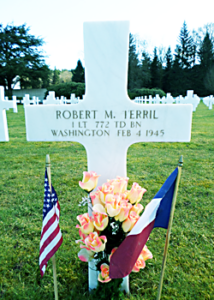 On February 4th, Lt. Terril was killed in action when he was struck by shrapnel from an exploding anti-personnel mine. He was eventually buried in the Epinal American Cemetery and Memorial, Epinal, Departement Des Vosges, Lorraine, France. We would like to thank Lt. Robert M. Terril for making the ultimate sacrifice for his country. Thank you to E-Yearbook.com for the younger photo of Robert, while a student in high school. The photo is used by permission of Digital Data Online, Inc. Thank you also to Find a Grave contributor, Andy, for the use of the grave marker photo.