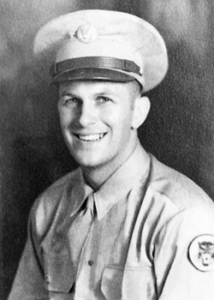 Donald J. Trimmer
Biography:  Donald James Trimmer "Don" was born on March 8, 1920, in Netcong, New Jersey. He was one of four children born to Russell Trimmer and Nellie H. Dilts. He attended local schools and prior to the war, he was working as a Hotel Clerk, for the Calhoun Hotel in Anderson South Carolina.
Service Time:  Don entered the service on March 5, 1943, and was sent to Camp Hood, Texas where he was assigned to Company C of the 140th TDTB (Tank Destroyer Training Battalion). As the war went on, the need for tank destroyer replacements dwindled and many of the trainees were sent to other types of units.
Don remained at Camp Hood and was assigned to the 1848th SVC COMD (Service Command) Unit with specific responsibilities for war department theaters at North Camp Hood. The service Command units had responsibilities for running and maintaining the various bases while the combat troops were deployed.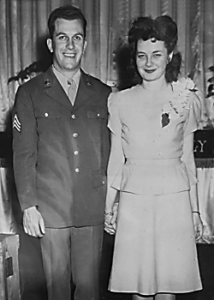 On January 3, 1945, while on leave from his unit, he married the former Eileen Mary Hulse who was the daughter of Clarence West Hulse and Annette Violet Riordan. The ceremony was held in Coryell County, TX. Don returned to his duties and remained at the base until he was discharged on February 14, 1946, at the rank of Staff Sergeant.
After Don had returned to civilian life, he made his home in New Brunswick, NJ. He and Eileen would have two sons, Kenneth in 1948, and Douglas in 1952. Don found work with the Shaw-Barton Company who produced calendars and specialty advertising. He worked for the company for 22 years and was very successful, achieving membership in their Million Dollar and Triangle clubs. In his spare time, he was also a member of the Kiwanis Club of New Brunswick. In 1952, he and the family moved to Westfield where he would live for the next 18 years.
Don passed away on February 23, 1970, and was buried in the Fairview Cemetery in Westfield, NJ. I want to thank Don's daughter-in-law Mary for providing the photos of Don and his grave marker. Thank you also to Serge Lemaire for his continued research into the men of the tank destroyer forces.