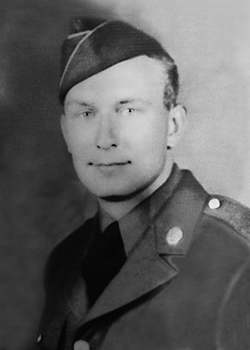 Edmund Ulrich
Biography: Edmund Ulrich was born on December 13, 1919, in Wolf Point, Montana. He was the son of Edward Ulrich and Bertha Siewert. In 1926, the family moved to New Rockford, North Dakota, where he attended public schools.
He later moved to Washington State where he worked as a ranch hand but he returned to New Rockford after the death of his brother-in-law. Once back in New Rockford he worked for the Independent Lumber Yard and the Russell Implement Company but additionally, the 1940 census indicates he was driving truck for the CCC (Civilian Conservation Corps).
On December 13, 1941, Edmund married the former Hildegarde Mae Kossian who was the daughter of Robert R. Kossian and Emma Behrens. Hildegarde was born in Kleinhorheim, Germany and came to the U.S. when she was 4 years old. The new couple would welcome a daughter they named Faith Elizabeth.
Service Time: Edmund entered the service on March 21, 1942, probably at Fort Snelling in Minnesota. He received his basic training at Fort Lewis, Washington, where we believe he was assigned to the 899th Tank Destroyer Battalion. The 899th received additional training at Hunter Liggett Military Reservation in California before moving to Camp Hood, Texas, that same year. Edmund was able to visit his family on furlough in September 1942 and January of 1943.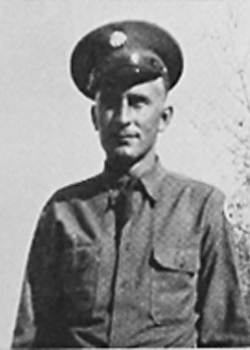 On January 13, 1943, the 899th shipped out from the New York port and arrived in Casablanca, Morocco, on the 26th. They participated in several battles in North Africa, including El Guettar, Tunisia, in March 1943. Edmund was confined to a base hospital in North Africa for some time before rejoining his unit. The unit shipped to Naples, Italy, in November.
We are not sure of the reason or the timing but Edmund transferred to the 6th Armored Infantry (AI)Regiment of the 1st Armored Division and served with them in Italy. The 6th AI was equipped with M3 half-tracks but unfortunately the actions against the Italian Monte Porchia, as a part of Task Force Allen (named for Brig. General Frank A. Allen, Jr.) would be fought on foot. This force was built around the 6th AI but also included tank and tank destroyer battalions, division level artillery, an engineer combat group and other miscellaneous units and medical personnel.
The battle started on the afternoon of January 4, 1944, and continued for almost a full day. Losses were heavy and estimated by Allen himself as 35 to 40 percent. The next morning, all three battalions of the 6th AI attacked again with one making their way to the top. Additional reinforcements helped secure the position but a German counterattack that evening almost displaced them but was unable to overcome allied forces. The next day, January 6th, the Germans were only able to cover their withdrawal from the area. The Salerno to Cassino volume of the U.S. Army in World War II, Mediterranean Theater of Operations (Army Green Books) identifies that over the course of the battle, which totaled ten days, the casualties were 66 men killed, 379 wounded and an unknown amount missing with an additional loss of 516 men to non-battle causes including sickness and exposure. The 6th AI alone reports 480 men missing in action.
On January 6th, Private Edmund Ulrich was initially identified as missing in action in the vicinity of Monte Porchia, but later identified as killed in action. The local newspaper in New Rockford identified Edmund as the third boy from the town to be killed.
Edmund was brought home and buried in the Prairie Home Cemetery in New Rockford, ND. On April 2, 1944, a memorial service was held for him in the Brown Memorial Auditorium, in New Rockford. I want to thank Edmund's great-grandson, Joshua, for providing the information and photos of Edmund used in this tribute. Thank you also to Find A Grave contributor R. Kingsley for use of the grave marker photo.