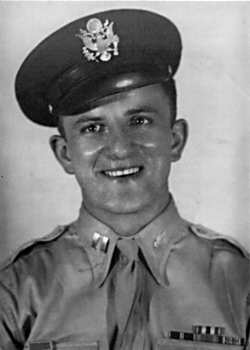 Joseph R. Uhler
Biography: Joseph Richard Uhler was born on June 21, 1921, in Johnstown, Pennsylvania. He was the son of Leopold Uhler and Mary Medek and graduated from Johnstown High School in 1940. While in high school, he played football and received a football scholarship to G.M.C., Georgia Military College. He graduated from there in 1942.
Service Time: After leaving G.M.C., he went right into the service. He took part in an officer's refresher course at Camp Croft, South Carolina, and became life-long friends with Warner Hale, who was in the same class. As the story is told, the class was given a mechanical aptitude test at the end of their course, with the top five being sent off to serve in the Tank Destroyers. Both men did well on the test and were shipped off to Camp Hood, Texas. Joe was assigned to the 139th Tank Destroyer Training Battalion, which was stationed at North Camp Hood.
They were only there a few weeks before the 894th Tank Destroyer Battalion shipped out from the New York port, on August 6, 1942. Although we are not sure of the exact date, both Joe and Warner were assigned to the unit.
They arrived in England on the 17th and five months later they were landing in Oran, Algeria, on January 17th, 1943. An outbreak of spinal meningitis had delayed their arrival. They were committed to battle on February 23rd, at Kasserine Pass in Tunisia, and it was during the heat of battle that Joe received a field promotion to 1st Lieutenant. In April his leadership inspired his platoon to hold their position under heavy artillery fire while taking extensive losses of both men and equipment. That same afternoon, they were still under attack and Lt Uhler advanced to one of their burning vehicles. He assisted the men in putting out the fire in spite of the fact that a box of anti-tank mines was on fire and the unit was loaded with 75mm ammunition. For his actions, Lt. Uhler was awarded the Silver Star. The unit also supported the capture of Bizerte.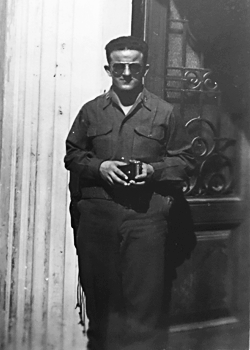 The 894th landed in Italy in late October, and by December, they were located in vicinity of Pignataro, in the Mignano sector. They were then transferred to the Anzio beachhead on January 25, 1944, where the battalion supported mainly British troops. During the period of March to September, Joe was involved in some type of aerial operations, which may have included air reconnaissance of enemy locations. Small planes were used by units to do aerial observations, which provided invaluable information for troop movement, enemy placements and possible target locations. For his part, he was awarded the Air Medal.
The unit entered Rome in June and crossed the Arno River at Pisa in September. They became mired at Porretta Terme late 1944–early 1945, but were finally able to enter Genoa on April 28th. At some point, in 1944, Joe was promoted to Captain and he was recognized for this part in the unit's actions during the period, August through November 1944, by the award of the Bronze Star.
Joe served with B Company, which entitled him to the Presidential Unit Citation, for the Company's actions near Carroceto, Italy, in February of 1944. He also received the Forraguere signifying the unit's award of the Croix de Guerre. Joe left the service at the rank of Major.
After returning home to Georgia, he continued his education at the University of Georgia, in particular at their School of Forestry. While there, Joe met Dr. Paul Boson, who was a Classics Professor and Photographer, for both the University and the State College for Women. Dr. Boson had an assistant, Margaret Anderson, who was attending the Women's College. He asked her to photograph Joe, since he had just been discharged from the service and went further to ask both Margaret and Joe to go into the darkroom to develop the film. The two complied, knowing that Dr. Boson was matchmaking, but it led to their courtship and later marriage, on July 22, 1948.
The couple remained in Milledgeville and had four children. Joe worked in the Forestry profession and Margaret worked as an adjunct professor at Georgia State College for Women and later Georgia College. Joe passed away on April 11, 2007, and was buried in the Georgia Veterans Memorial Cemetery, also in Milledgeville. I want to thank Joe's daughter, Adair, for providing the information and materials for this tribute. I want to also thank her for sharing her father's photos from the 894th and their time overseas.