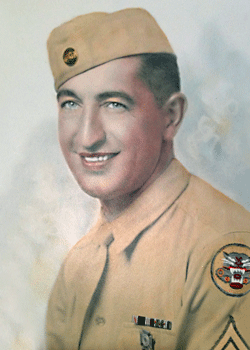 Charles P. Ubl
Biography: Charles Peter Ubl was born on February 21, 1910, in Saint Paul, Minnesota. He was the son of John W. Ubl and Mary J. Stotzheim and attended local schools in Saint Paul. It is believed that he worked for the Waldorf Paper Products Company, also in Saint Paul.
Service Time: Charles entered the service on March 16, 1942, and was assigned to Company B, of the 807th Tank Destroyer Battalion. The unit shipped out from the New York port on August 11, 1944, and arrived in Liverpool, England, on the 23rd. Less than a month later they landed at Utah Beach, on September 18th, equipped with 3″ towed anti-tank guns. They fought in the Metz, France, sector from September to November and then attacked toward Saarlautern, Germany, in November and December.
The 807th then battled the German Nordwind offensive in January, 1945, before shifting north for offensive actions at the Rhine River in March. They defended the Rhine River bridges in April and converted to the M18 tank destroyer in time to join the drive through Bavaria, late in the month. They finally reached the vicinity of Salzburg, Austria, in early May.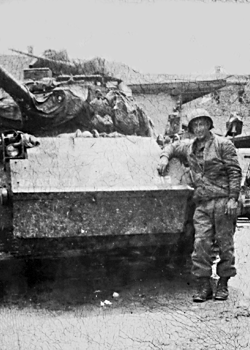 Charles received credit for each of the unit's three campaigns; Rhineland, Ardennes-Alsace and Central Europe. He received the EAME Medal and Good Conduct Medal and had also qualified as a Sharpshooter. He left the service at the rank of Corporal.
Charles returned to Minnesota and made his residence in Saint Paul. He also went back to work for the Waldorf Paper Products Company. He married the former Lorraine Marie Bittner who had also been born in Saint Paul and was the daughter of John F. Bittner and Mary Cummins. Lorraine was also a veteran of WWII and had enlisted in the WACs (Womens Army Corps) on January 16, 1945. She left the service at the rank of Sergeant. The new couple had two children, Marlene and William.
In his spare time, Charles enjoyed hunting, fishing and camping and was a member of the Pulp Sulfite Workers Union. He passed away on November 11, 1965, and was buried in the Fort Snelling National Cemetery in Minneapolis, Minnesota, Section K, Site 526. Charles' wife is buried next to her husband.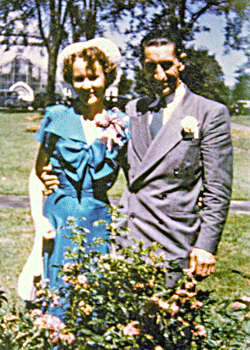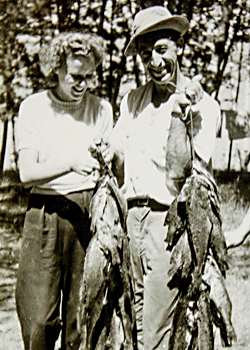 I want to thank Charles' son, William, for providing the information and photos for this tribute.