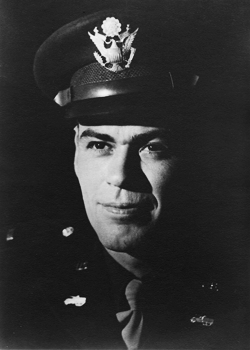 Charles H. W. Von Behren
Biography: Charles Henry Willis Von Behren, "Charley", was born on January 23, 1915, in Ervington Township, Jackson County, Minnesota. He was the son of Heinrich Carl Wilheim Von Behren and Jennie Mae Bringham. His father became sick and died the same year he was born. By 1930, Charley, along with his mother and sister, Dorothy, were living in Azusa, California, where Jennie was teaching in the public schools.
In 1934, he graduated from Citrus Union High School in Glendora, CA. He worked at the Alpha Beta Food Market, in Azusa, as a produce clerk. His enlistment record indicates he completed two years of college, which we believe was at Citrus College, located in nearby Glendora, CA.
Service Time: Charley entered the Army on November 5, 1941, in Los Angeles, CA. At some point, we believe he was chosen for OCS (Officer Candidate School) and would have graduated as a 2nd Lieutenant and was assigned to the 773rd Tank Destroyer Battalion. He's listed as a member of Company C in the unit newsletter published December, 1943. In early 1942, the unit moved to Camp Shelby, Mississippi, for four months of training followed by a move to Indio, Cal., and the Desert Training Center, California. After an eight month training period, including the Desert Maneuvers of September and October of 1942, a toughened 773rd departed for Camp Hood. Texas, the home of the Tank Destroyers. This course extended from December 1942 to April of 1943.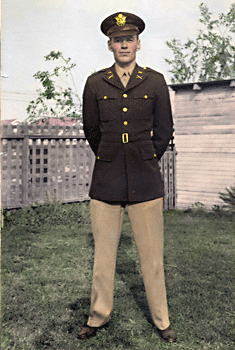 Again on the move, this time to Camp Atterbury, Indiana, they were later ordered to Tennessee, in June, for their fourth large scale Army Maneuvers, this time with the Second Army. The unit returned to Camp Atterbury, and on the 15th of January 1944, they moved to New York. A short but busy stay at the P.O.E., Camp Shanks, NY, preceded embarkation on the British liner "Acquitania".

The 773rd arrived at Gourock, Scotland, on February 7, 1944. They later landed at Utah and Omaha beaches, Normandy, France, on August 8, seeing their first real action at Le Bourg St. Leonard, supporting the 90th Infantry Division, beginning August 17th during envelopment of the Falaise Pocket. Charley was awarded a Bronze Star of heroic and meritorious achievement during the period August 18th-22nd.
Advancing to the Moselle River sector via Paris, they later fought at Luneville and the Foret de Parroy. He was awarded the Distinguished Service Cross for heroic actions on September 11, 1944, during a reconnaissance mission. They supported the capture of Metz in November. The battalion joined operations against the Siegfried Line along the Saar River in December and were ordered to the Ardennes on January 6, 1945.

Letter of Award for DSC and Bronze Star Medal
On January 16, 1945, Charley was commanding the 2nd Platoon of Company C, which arrived at Wardin, Belgium, very early that morning. At 10AM, they joined the 2nd Battalion, 359th Infantry Regiment, and advance in support until they reached and area west of Longvilly, BE. They met no resistance. On the 17th, the 773rd's 3rd Platoon was on its way to relieve the 2nd at Longvilly but they were diverted to Oberwampach to assist Company B's 1st Platoon. On this date, Charley somehow became separated from his unit at Longvilly. By 2PM on the 18th, he was reported as unaccounted for. On the 19th, two 6-man patrols from the Reconnaissance Company were sent out to look for him. Blizzard conditions along with extreme cold and limited visibility hindered the search and he could not be located.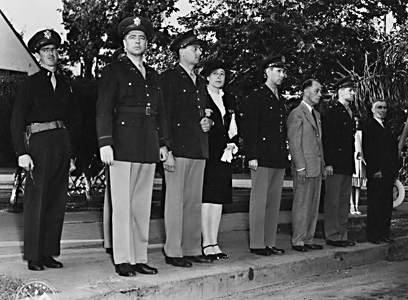 Charley was initially listed as missing-in-action but this was later changed to KIA (killed in action) on January 17, 1945. He was buried in the Foy (Belgium) American Temporary Cemetery but on April 25, 1949, he was re-interred in the Golden Gate National Cemetery, Section K, Site 49, San Bruno, San Mateo County, California.
The photo on left was taken at Charley's funeral, which was held in San Francisco. His mother is shown in the center of the photo.
We would like to thank 1st Lieutenant Charley H. W. Von Behren for making the ultimate sacrifice for his country. Thank you to his grand niece, Denise Evans, for providing information and photos used in this tribute. We also thank Find-a-Grave contributor Kevin Quattrin for use of the grave marker photo.