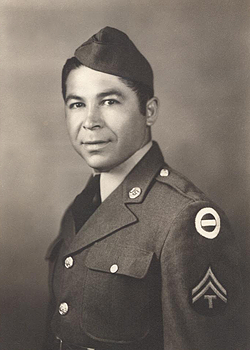 Alfredo Villalobos, Jr.
Biography: Alfredo Villalobos Jr. was born in Clint, Texas on January 20, 1916. He attended Clint Elementary in Texas and Bernalillo High School in New Mexico. After graduating, he went on to attend the University of New Mexico. Prior to WWII, Alfredo worked as a bus driver.

Service Time: Alfredo entered the service on June 17, 1941 at Fort Bliss in El Paso, TX. He was moved to Fort Lewis in Washington State for basic training and later assigned to the Headquarters Company of the 640th Tank Destroyer Battalion. "Bull" as he was known, due to his short and stocky build, shipped out with the unit from the San Francisco port on Sep. 4, 1942. They landed in Hawaii on the 12th and went on to Guadalcanal, New Britain and then the Philippines in January of 1945.
He received credit for each of the unit's four campaigns, Bismarck Archipelago, Eastern Mandates, Luzon and Southern Philippines and was awarded the American Defense Medal, Asiatic-Pacific Service Medal, American Theater Service Medal, Good Conduct Medal and the Philippine Liberation Ribbon. He returned to the states on June 14, 1945 and left the service at the rank of Technician 5th Grade.
Alfredo married Inez on August 11, 1947. She was originally from Rosebud, TX and together they would have three children, Gerald, Edwina and Larry. The family made their residence in El Paso, TX where Alfredo became the owner of a private bus line. In his spare time, he enjoyed many outdoor activities including hunting and fishing and a variety of sports.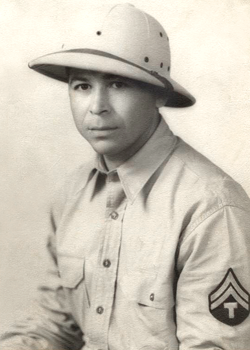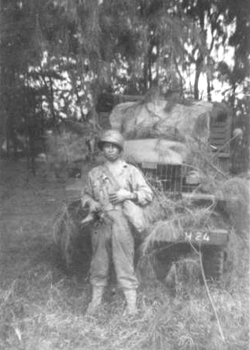 Although he rarely talked about the war, he did relate to his family how proud he was to have served in the 640th and the fact that many of them were of the Mormon faith. He became particularly close to them due to his Catholic faith and the areas of common ground they shared. He attended several of the reunions and also instilled in his children the ethics of his generation and will to take on just about anything. The photo below shows Alfredo on far left with Peter Fortunato center and another friend from the 640th. The occasion was a reunion held in Las Vegas, NV.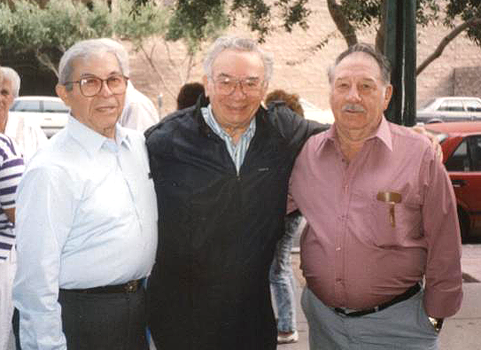 Alfredo passed away on May 5, 2003 and was buried in El Paso, TX. I want to thank Alfredo's son Larry for supplying this information and photos of his father.