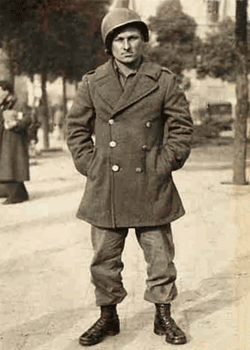 Frank A. Vargo
Biography: Frank Andrew Vargo was born on May 25, 1917 in Klondyke, Indiana, which is in Vermillion County. He was one of eight children born to Andrew Vargo and Mary Regina Parifa and attended grammar school in Clinton. Both he and his brother Steve found work in the Packard Plant in Detroit, Michigan. On April 3, 1943, Frank married the former Opal Norine Staggs. She was the daughter of William Herman Staggs and Dolly May Adams and had been born in Rockville, Indiana. The couple would have one daughter, Sandra Kaye Vargo, born on October 9, 1943.
Service Time: Frank Entered the service on December 23, 1942 at Indianapolis, Indiana. Frank completed his basic training at Fort Bliss, TX and was shipped overseas as a replacement being assigned to B Company of the 601st Tank Destroyer Battalion. The 601st had already served in North Africa and the battles of Kasserine Pass and El Guettar in early 1943. Frank probably joined the unit at the very end of the African campaign or during the unit's time in Italy. It was on April 1, 1945, in the country of Luxenbourg, while crossing the Rhine River that Frank's tank destroyer was hit by enemy fire. Frank was killed and posthumously awarded the Purple Heart for giving the ultimate sacrifice for his country. At the time of his death, he had reached the rank of Sergeant. Sadly, Frank's daughter Sandra never met her father. His body was shipped home in March of 1949 and buried in the Walnut Grove Cemetery in Clinton, IN.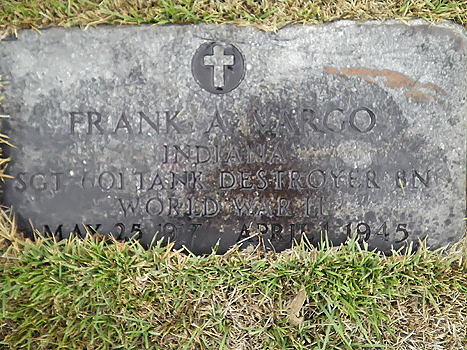 On August 3, 1947, two years after Frank's death, his widow Norine married Frank's brother Steve.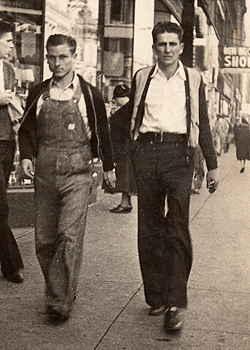 Shown in the photo to the left is Frank on left with his brother-in-law, Joe Pessetti at some point prior to the war.
I want to thank Frank's nephews, Jim and Brian for providing the information shown above and Robert "Bob" Pessetti who provided the photos. Bob's father Joe is shown in the one photo and his mother Margaret was Frank's sister. Thanks to all of them for their efforts to preserve his memory.