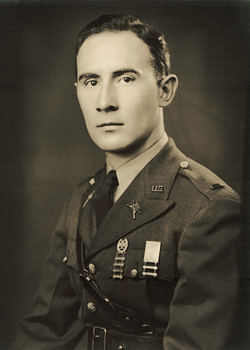 Jean M. Varda
Biography: Jean Marius Varda was born on August 22, 1915, in the Queens borough of New York City, NY. He is the son of Nicholas and Cecile Jeannin and graduated from William Cullen Bryant High School, also in Queens. Prior to WWII, he worked for the A & P Tea Company as a Wall Street runner.

Service Time: Jean entered the service and was assigned to the 102nd Anti-tank Battalion. On December 15, 1941, when the unit became the 802nd Tank Destroyer Battalion, Jean became Commander of Company A.
On September 6, 1942, Jean married the former Grace Elizabeth Short of Mecklenburg County, NC. She was the daughter of Thomas F. Short and Annie Smith.
Jean remained the A Company commander until the unit was deactivated in Czechoslovakia in 1945. Only Jean, Capt. Bill Kessler and Capt. Gordon Stables were with the unit that entire time. The 802nd served throughout Europe receiving credit for campaigns in Normandy, Northern France, Rhineland, the Ardennes and Central Europe.
Jean received numerous awards including the Silver Star, WWII Victory Medal, EAME Medal, Army of Occupation Medal, American Defense medal, Armed Forces Reserves Medal, the Army Commendation Medal, the French Liberation, Combatant Cross and French Free Fighters Medal as well as the Belgium Liberation Medal.
Jean and his wife made their home in Weddington, NC, and he worked in a variety of occupations including a sanitation man, mail carrier and farmer. In his spare time, he enjoyed golfing, gardening, woodworking and walking. The couple had four children, Cecile, Beth, Jean II and Suzanne.
Jean passed away on March 10, 2014, at the age of 98. He was buried at the United Methodist Church Cemetery, in Weddington, NC. I want to thank Jean and his granddaughter Sarah, for the materials they provided for this tribute and for the 802nd unit page.

Shown below are a few photos of Jean and his wife. The first was on their wedding day in September of 1942, and the second in July of 1943. The photo in full uniform, now a Lt. Col., was taken in 1973. The last photo is Jean with his medals.