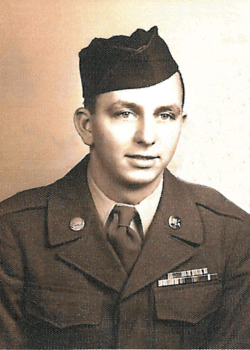 Robert J. Van Vonderen
Biography: Robert John Van Vonderen, "Bob", was born on December 17, 1924, in Coleman, Wisconsin. He was the son of Joseph E. Van Vonderen and Charlotte A. Feak and graduated from Wisconsin public schools in 1942. During his senior year, he was captain of the basketball team which went on to be district champions.
Service Time: Bob entered the Army on March 2, 1943, at Milwaukee. He began his service at Fort Sheridan, Illinois, on the 9th but was shipped off to Camp Hood, Texas, for basic training as an anti-tank gun crewman. He underwent 8 weeks of training in weapons school and was assigned to the 670th Tank Destroyer Battalion on June 12th. His training included assembly and disassembly of small arms, the use of the 37mm towed gun, the M3 half-track, the M10 and the M18 tank destroyers.
The unit was then shipped to Camp Shelby, Mississippi, for additional training before going to Fort Lawton in Seattle, Washington, which was the Pacific embarkation port. They departed on December 28, 1944, on their way to Hawaii. They arrived on January 5, 1945. By April 10th, the 670th was deactivated and Bob was assigned to Third platoon, Company B of the 671st Tank Destroyer Battalion.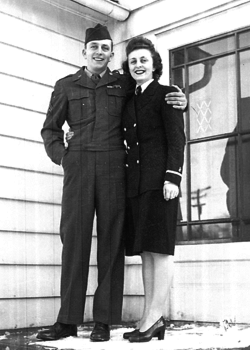 The 671st shipped out in July of 1945, for the island of Leyte in the Philippines to prepare for the invasion of Japan. After the surrender of the Japanese Army, Bob was discharged on October 30, 1945, at the rank of Sergeant, while still stationed in Leyte. He received the Asiatic Pacific Medal, the American Theater Medal, the Philippine Liberation Medal and the Good Conduct Medal.
Bob reenlisted in the regular Army and left Leyte on October 31st, for Camp Anza, California. He arrived on the 28th but was sent to Camp Campbell, Kentucky, and served out his term there as Chief of Section, Service Battery, 39th Field Artillery Battalion. He finally left the service for good on December 2, 1946.
The photo at left shows Bob and his sister who served as a Navy Nurse.
Bob returned home and continued his education at the University of Wisconsin-Madison, WI, and completed his college work at University of Wisconsin-Superior, in March of 1950. It was during that time that he had the opportunity to play basketball against the Green Bay Packers football team in 1947. He then accepted a job as an Account Adjuster with Commercial Credit Corporation in Marquette, Michigan. He was promoted to a Unit Supervisor position and transferred to Madison, Wisconsin. He left the company in 1952, and accepted a position as Credit Manager for Columbia Music in Milwaukee, Wisconsin.
While working at Columbia, Bob met his future wife, Florence Mary Chiconas, who was also working at Columbia. They got engaged on December 31, 1953 (New Years' Eve) and were married 10 months later on October 31, 1954, at the Annunciation Greek Orthodox Church in Milwaukee. Bob and Florence had three children, Mary, born in 1956, James in 1957 and Kathryn in 1961.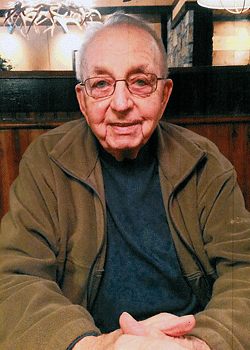 In November of 1953, Bob accepted a position as a Claim Adjuster for Hardware Mutual Casualty Company, now known as Sentry Insurance Company, in Milwaukee. He remained there and received promotions to Claim Examiner, Salesman, and then Underwriter. In 1962, he accepted a job as a Workers Compensation Underwriting Manager (Central Region) at Firemen's Fund Insurance Company in Chicago, Illinois. He left Firemen's Fund in January 1970, and accepted an offer to become the President of The Compensation Advisory Organization of Michigan and The Michigan Workers Compensation Placement Facility. He retired on February 1, 1985.
During his retirement, Bob enjoyed constructing remote control model airplanes and model watercraft, which he operated on an inland lake. Bob passed away on January 29, 2021, at the age of 96. He was buried in the Nicolet Memorial Gardens in Green Bay, WI. He was one of the last veterans that I was able to work with directly on his Honoree page, providing both information and photo via his son Jim. He was a pleasure to work with. I also want to thank Jim, for assisting with the photos.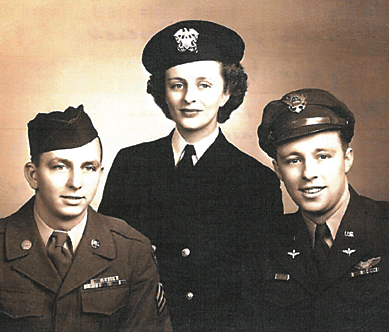 In addition to Bob, other members of his family served in the military. His father had served in WWI, as a pilot. His brother Carl served in the Army Air Corps, as a Pilot of a B-24, 491st Bombardment Group, out of North Pickenham, England. He retired as a Major. His sister Athalie, served as a registered nurse, in the Navy Nurse Corps. Additionally, his brother Vernon graduated from West Point Military Academy and retired as a Colonel in the Air Force. His other sister, Sandra, is a registered nurse.
Shown in the photo are Bob left, Athalie center and Carl right.