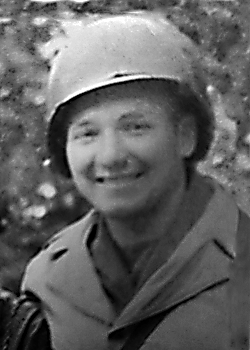 Jonas H. Whaley
Biography: Jonas Harding Whaley was born on March 9, 1921, in Sevier County, Tennessee. He was one of 11 children born to William M. and Laura E. Whaley and graduated from local schools. His enlistment record indicates that he worked as a painter prior to the war.
Service Time: Jonas entered the service on September 10, 1942, at Fort Oglethorpe, Georgia. After his initial training, he was assigned to 2nd Section, 1st Platoon of A Company, 825th Tank Destroyer Battalion.
The 825th sailed from the New York port on May 30th, 1944, aboard the Queen Elizabeth, arriving in Scotland on June 5th. After an additional 2 months of training, the men and equipment were loaded on LST's and arrived on Utah Beach in Normandy, France. They were equipped with 3″ towed guns and initially assigned to the Communications Zone and they performed 12th Army Group security duties between August and December, 1944.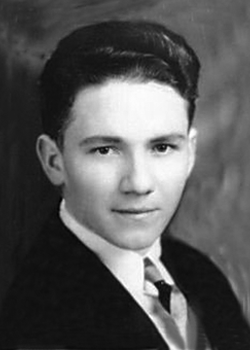 The battalion entered combat near Malmedy, Belgium, on December, 17th. The next morning, two 3" anti- tank guns of Lieutenant Jack Doherty's 1st and 2nd Sections, 1st Platoon, Company A, were knocked out by Kampfgruppe Peiper after crossing the Amblève River bridge at Stavelot. They made contact with the enemy but were unable to reach the positions designated due to enemy fire. When they attempted to withdraw and take up positions to return fire, they were hit by direct fire from the Germans, knocking out the two guns and half-tracks towing them.
As the result of this action, six men from 1st Section were killed and two were wounded. All the men of the second section, including Jonas, sought refuge in nearby houses.
The 825th returned to security duties on January, 16. 1945. They received credit for participation in the campaigns of Northern France, Ardennes-Alsace, Rhineland and Central Europe. Jonas was awarded the Bronze Star and left the service at the rank of Sergeant.
Now back in the U.S., he made his residence in Cleveland, TN, and married the former June Thearle. He worked as an accountant until he retired. At some point, he moved to Decatur, TN. In his spare time, he enjoyed woodworking (making furniture), farming and gardening.
Jonas passed away on June 11, 2014, at the age of 93. He was buried in the Hill Crest Memorial Gardens in Cleveland, Tennessee. I want to thank Serge Lemaire for providing photos and information for this tribute. I also want to thank Bobby Cox for the use of the grave marker photo.